Interview
Globalization Drove Israel's Economic Repositioning, Researcher Says
According to Assaf Razin, an influx of foreign investments was essential for the growth of the Israeli technology industry
Israel's economic repositioning over the last 70 years was driven by globalization processes, according to Israeli economist Assaf Razin.

For daily updates, subscribe to our newsletter by clicking here.

"Israel is a uniquely apt example of the success of globalization," Mr. Razin, a professor emeritus of Economy at the Tel Aviv University, said in an interview held last week with Calcalist. "In a sense, Israel is an economic miracle. When it became a state in 1948, it was a third-world nation; in slightly less than seventy years, it has become a member of the OECD as a developed, industrialized and wealthy country. Even in that exclusive club, it is positioned well in the middle."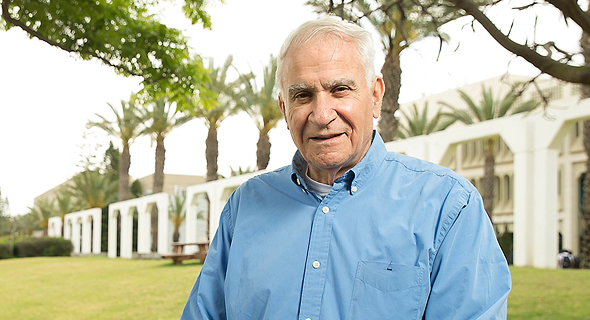 Assaf Razin, a professor emeritus of Economy at the Tel Aviv University. Photo: Orel Cohen

Mr. Razin (77) chaired Tel Aviv University's department of economics in the 70's, served as the dean of the university's social studies faculty in the 80's, and was deputy provost of the university in the 90's. Mr. Razin's latest book "Israel and the World Economy: The Power of Globalization," was published in January by the MIT Press.

"International cooperation was a cornerstone of the creation of the Israeli economy," Mr. Razin said. "If it goes into economic isolation, it can be disastrous."

Following War World II, the U.S. headed initiatives to set up international organizations that would support and regulate global trade, injecting the rule of law, and international trade frameworks, Mr. Razin said.

In the following years, as a young country, Israel set up courts that enforced the use of legal contracts and ownership rules in business dealings, created a formula-based tax system, and established principle-based regulatory systems.

"Despite all financial hurdles, it kept building these institutions, creating the necessary infrastructure for years to come," he said.

Over the last few decades, the Israeli economy grew at an accelerated pace, compared to other countries. This growth, according to Mr. Razin, has been driven by several factors including increased exports, and a wave of immigration from Russia in the 1990's that brought with it highly skilled people.

"It took the newcomers 5-10 years to find positions that matched their skills, but overall integration was much faster than what can be observed in other countries. In economic terms, the injection of a professional workforce increases marginal output."

A third factor, according to Mr. Razin was an influx of foreign investments which was essential for the growth of the Israeli technology industry. These investments set the Israeli market apart, helping the country's skilled engineers find a way to build successful companies.

"Israel scores high in terms of scientific resources, but so do other countries which have not sprouted similar industries. Ties with foreign investments are the extra element," he explained.

The current financial global situation can affect investments poured into the local market, Mr. Razin said, with the current U.S. leadership promoting trade protectionism, and countries such as Hungary, Poland, Austria and the Czech Republic taking anti-democratic steps that could destabilize the European Union.

On top of a possible destabilization of international trade relations, Israel could also face growing economic trouble due to the Israeli-Palestinian conflict, Mr. Razin said.

"We're not finding a way to moderate the conflict, and that can lead to diplomatic isolation, which in turn could lead to economic isolation," Mr. Razin explained. "The current European boycott of goods made in the Israeli West Bank settlements could expand. The academic boycott of Israel could expand. And Europe accounts for a third of Israel's export. If parts of the world will dissociate from us, that could be a critical blow."

While that hasn't happened yet, it's a possibility, Mr. Razin explained. "No one predicted the financial crisis of 2008," he said, "and it doesn't have to occur in a sole explosion, like in 2008. Financial isolation is a gradual process."

Israel did not face the same challenges as the U.S. did in recent years, Mr. Razin said. The global financial crisis and tenure of Stanley Fischer as governor of the Bank of Israel in 2005-2013 served to strengthen the supervision on Israeli banks, he explained, and the local financial system also benefited from the U.S. pursuit of tax evaders, which forced Israeli banks to be more stringent.

As a result, no major economic reforms were initiated in the country, and no long-term programs have been instated. One issue Mr. Razin said needs to be addressed would be the participation of Arabs with an Israeli citizenship and ultra-Orthodox Jews in the local jobs market. While the first according to Mr. Razin have made great strides in terms of integration, a focus on types of education that do not increase earning power will make the integration of ultra-Orthodox Jews a major challenge, he said.