New Hurdles Stall Israeli Cannabis Export
Israeli Prime Minister Benjamin Netanyahu greenlit the export reform after a two-month delay, but fresh ministerial disputes keep pushing back the final approval
After Israeli Prime Minister Benjamin Netanyahu greenlit the export of medical cannabis from Israel, a new dispute between the Israeli Ministry of Health and the Ministry of Finance is delaying a government approval of a reform that would allow Israeli farmers to export medical marijuana. The conflict regards the method for awarding growing permits, several people familiar with the matter told Calcalist on condition of anonymity.

For daily updates, subscribe to our newsletter by clicking here.

In 2016, the Israeli government set in motion a reform that could see Israel become the largest medical cannabis exporter in the world. An Israeli parliamentary committee estimated that cannabis export could bring Israel as much as $1.1 billion a year.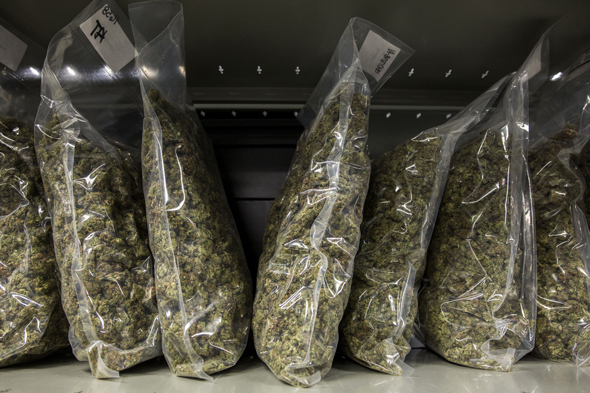 Cannabis. Photo: Bloomberg

The legalization came to a temporary halt in February, following opposition from the Israeli Minister of Public Security Gilad Erdan, who claimed that medical cannabis farmed in Israel has already made its way to recreational users and demanded an increased budget to support the deployment of additional security personnel before sanctioning the reform. Several ministries opposed the demand, leading Mr. Netanyahu to order a reassessment of the plan's economic potential.

Last week, Mr. Erdan consented to a revised plan that would limit the licenses issued to up to 50 growers, and see 25 police officers allocated to a cannabis operations task force based on an increased budget. Furthermore, export licenses would be granted only to finished, medical cannabis products, not to raw materials.

The decision was set to be brought for governmental approval on Sunday, but the cap decided upon—50 licenses—led to a new inter-governmental squabble.

The health ministry and several people at the finance ministry supported a first-come-first-serve method for granting the licenses, the people familiar with the matter said. But the finance ministry's legal counselor office, headed by Asi Messing, promoted a tender-based procedure, which would considerably lengthen the permit process and distance the start of the export.

By Friday noon, when the decision needed to be posted online if it was to be brought up for approval on Sunday, it was already apparent that the two sides would not reach a compromise in time. However, both ministries stress that the approval of the export is a done deal, and the delay is technical and only temporary in nature, these people said.