Commenting on Pentagon Contract Oracle's Safra Catz Blasts "One Cloud" Plan
Currently visiting Israel, Ms. Catz commented on a meeting she had with President Trump earlier this month, discussing what she described as an "unfair advantage" given to Amazon
On Monday, the Co-CEO of Oracle Corp. Safra Catz confirmed she raised reservations regarding the process in which the Pentagon intends to choose a cloud provider in what could be a multi-billion contract in a meeting with U.S. President Donald Trump.

For daily updates, subscribe to our newsletter by clicking here.

The winner of the contract that would see the Pentagon's technology needs move to the cloud is expected to be announced in September.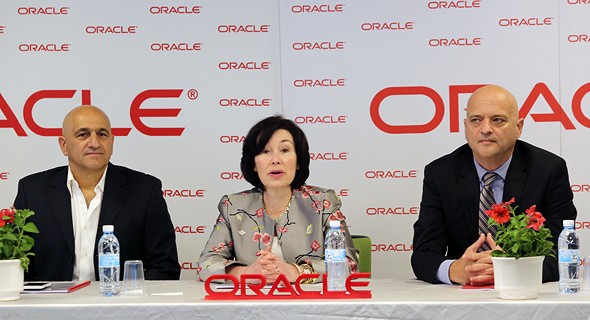 Safra Catz at the press conference. Photo: Ezra Levy

According to a Bloomberg report citing people familiar with the matter, earlier this month Ms. Catz criticized the bidding process for the contract in a dinner with U.S. President Donald Trump, complaining that it seems to favor Amazon.

Currently visiting Israel, Israeli-born Ms. Catz commented on the meeting at a press conference held at Oracle's offices in Petah-Tikva, east of Tel Aviv.

"I talked with him about what commercial customers are doing in their moves to the cloud," Ms. Catz said, adding that she told the U.S. President that according to her understanding The Pentagon's plans is to pick a single cloud provider.

"I can not think of a single commercial enterprise that has only one cloud. The way we see it, the Microsoft workloads should go to Microsoft cloud, Amazon workloads should go to Amazon, Oracle should go to Oracle cloud, Salesforce should go to Salesforce. I never heard of something like a single cloud, and I would challenge anyone to point at a significant commercial customer who has only one cloud, it makes no sense," Ms. Catz said.

According to two Wall Street Journal reports published earlier this month, over the past several years Amazon has been gaining ground in the U.S. government, winning cloud contracts across departments.

Ms. Catz further commented at the press conference on what she described as an unfair advantage given to Amazon in the Pentagon cloud contract bidding process.

"The preliminary request for information only focused on the computers, only the infrastructure, without taking into account the important applications like databases and others that would be running on it. I don't know a commercial enterprise anywhere that picks the computer first and then decides what to put on it. I never heard of an idea so upside down."

In recent weeks, President Trump, a long-time critic of Amazon and its founder, chairman and CEO Jeff Bezos, went on a tear lambasting the practices of the Seattle-based company.

Asked about President Trump's reaction to her comments, Ms. Catz said she is positive the Pentagon would give the competing bids for the contract "a fair review."

"I am sure they will," she said.