Venture Capital Firm aMoon Aims to Raise $500 Million or More For a Second Fund
Established in 2016, aMoon invests in life sciences and healthcare companies, with a focus on Israeli tech
Israeli venture capital firm aMoon aims to raise a $500 million or more for its second fund. Investing in Israel-based life sciences and healthcare companies, the firm was co-founded by Check Point Software Technologies Ltd. co-founder Marius Nacht. The firm has already secured $200 million for its fund from Mr. Nacht himself, strategic and private investors, aMoon said in a statement Tuesday. The fund intends to close at $500 million, with a hard cap of $750 million.

For daily updates, subscribe to our newsletter by clicking here.

Mr. Nacht, the firm's chairman, established aMoon in 2016 together with the fund's managing partner Yair Schindel, a physician by education and the former CEO of Israel's National Digital Bureau.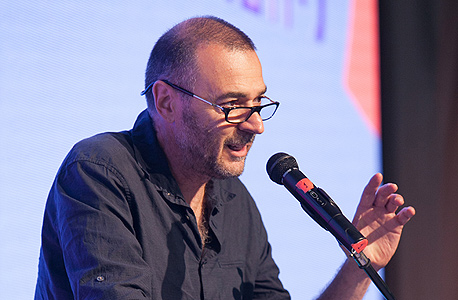 Marius Nacht. Photo: Orel Cohen

aMoon's first fund, aMoon I, invested $200 million exclusively from Mr. Nacht's own funds. Now closed, it has 16 portfolio companies. Among them are DayTwo Ltd., an Israeli startup that analyzes the DNA of gut microbiomes to provide highly individualized dietary recommendations; Medial EarlySign, which combines machine-learning technology and decades-worth of electronic health records (EHR) to create an artificial intelligence-based risk predictor; and Regenera Pharma Ltd., a clinical-stage pharmaceutical company developing drugs for a wide range of neurological conditions, with a focus on degenerative diseases.

aMoon II will invest in mid to late stage companies, to reduce the risks involved with developing drugs and medical devices and shorten the timeline to profitability. According to the firm's announcement, the fund will focus on companies in the domains of biopharma, digital health and medical technology, and "will invest in companies with a demonstrable ability to meaningfully impact on extending life or improving quality of life while reducing or maintaining the cost burden."

Three companies have already secured funding from the new fund.

Clinical-stage Ayala Pharmaceuticals Inc., established in November 2017, develops targeted therapies for genetically-defined cancers. aMoon's decision to invest in a company that focuses on a more niche field was "born of the belief that owning a larger stake of a smaller, less competitive market is more attractive than capturing a small share of a large, highly-competitive market," the fund stated.

Biolojic Design Ltd., founded in 2009, develops fully human antibody-based therapeutics for cancer and other diseases. The company uses a computer-guided design process to engineer custom antibodies that can bind to problematic or previously un-bindable targets.

CartiHeal Inc., founded in 2009, is a medical device company developing a biocompatible, off-the-shelf implant for damaged joints. Currently in clinical trials, the company has stated its implant has shown an ability to promote regeneration of cartilage and subchondral bone, which is the layer of bone just below the cartilage.

aMoon has also set up aMoon Velocity, a fund open only to aMoon II investors that focuses on early stage, disruptive technologies. The fund currently lists one portfolio company, Karius Inc. Established in 2014, Karius develops blood-based early detection technology for infectious diseases. In 2017 karius raised $50 million in Series A funding from the likes of Tencent Holdings Ltd. and California-based venture capital firms Lightspeed Ventures Partners.