The 50 Startups List
Cybereason Aims to be the Go-To Company in a World of Tailored Cyber Threats
With annual sales in the hundreds of millions of dollars and 400 employees, Cybereason is currently Israel's biggest privately owned cybersecurity startup
Boston-headquartered Cybereason Inc. wants to be the go-to cybersecurity guardian of enterprises in a world in which all information security walls are expected to succumb to hacking attempts. Technologies that protect organizations by monitoring incoming communication and looking for specific attack patterns lose their relevance when hackers target specific organizations and will spend as much time as needed to find a breach, according to the company's co-founder and CEO Lior Div.

For daily updates, subscribe to our newsletter by clicking here.

Cybereason's software collects and analyzes data about programs running on the computer network in organizations, files accessed by users, and even keystrokes and mouse movements to detect hackers operating on the network. Founded in 2012 by veterans of elite cyber-defense and offense units in the Israeli military, the company raised $189.5 million to date.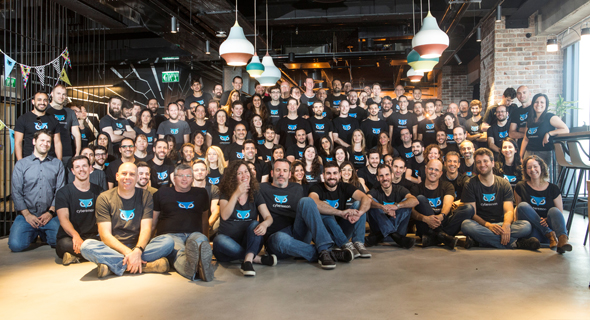 Cybereason's team. Photo: Tommy Harpaz

"No matter how well it is built, the hackers will get past the wall. Walls are bound to be breached," Mr. Div said In a January interview with Calcalist.

Despite being the breeding ground of hundreds of cybersecurity companies, Israel has not produced more than a handful of cybersecurity companies that attained annual sales of over $100 million. With annual sales in the hundreds of millions of dollars and 400 employees, Cybereason is currently by far Israel's biggest privately owned startup in the domain.

In 2015, then a team of 30 people, Cybereason signed American defense contractor as a customer. Shortly after the company closed a $25 million funding round, with Lockheed Martin as an investor. In October the same year, around six months after the company first started selling its software, Cybereason announced it added $59 million to its funding, $50 of which coming from Japanese Softbank.

With around $90 million in the bank, the company's executives decided to execute an aggressive plan to ramp-up sales in the U.S. and set up shop in Japan in a joint venture with Softbank.

"Trying to enter two separate markets aggressively is borderline stupid, especially when you cannot apply what you've learned in one market to the other" Mr. Div said in a March interview with Calcalist.

At that point, according to Mr. Div, Cybereason got on the fast track, and things started happening at a dizzying speed.

The company's bet on the Japanese market, Mr. Div said, paid off. "American companies struggle in the Japanese market. We realized we have a chance of taking over the market," he said.

To support its growth, Cybereason had to bring in hundreds of new employees. In some cases, it did not work out. Early in 2017, the company decided to restructure its sales operations in the U.S., replacing nearly 50 people.

In another case, the company was duped into hiring as a top human resource executive a man that called himself Kevin Brown in June 2017, only to learn he falsified his references, and lied about his resume, which included positions at Google and IBM.

The case was first reported by San Francisco-based technology website The Information Thursday.

"As soon as we realized that we were misled we shared the information with all of our employees, investors, and clients," Mr. Div said in a Friday interview with Calcalist.

According to The Information's report, at a meeting with Cybereason staff, Mr. Div said Mr. Brown, whose true identity could not be confirmed, does not appear to have stolen any sensitive information or intellectual property belonging to the company.

"When you hire so fast, you also make mistakes, and sometimes you have to let people go. We moved three offices in two years, each time doubling the number of employees. We had the privilege of building the company's management from scratch, and each of our top executives could have been a leader in other companies. If you can't get such people on your team, you can't build such an aggressive company," he said.