Cybereason Was Duped Into Hiring Reference Falsifying Exec, The Information Reports
In 2017, more than 25% of Cybereason employees have left due to inner company tensions, San Francisco-based technology news website The Information first reported on Thursday
Softbank Corporation-backed cybersecurity company Cybereason Inc. has faced turmoil in the past year with a new hire exposed as a fraud and massive staff departures, San Francisco-based technology news website The Information first reported on Thursday.

For daily updates, subscribe to our newsletter by clicking here.

Cybereason specializes in endpoint detection and response software. Its automated hunting engine monitors behavioral patterns to detect cyber attacks. Founded in 2012 by Israeli military intelligence units veterans, the company is headquartered in Boston, with a research and development center in Tel Aviv and additional offices in London and Tokyo.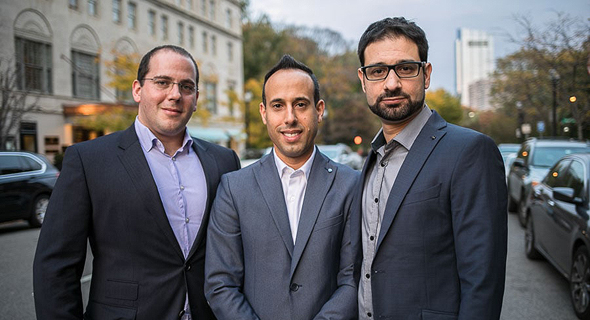 Cybereason co-founders Yonatan Striem Amit, Lior Div (center) and Yossi Naar. Photo: PR

According to the report, Cybereason hired a man calling himself Kevin Brown in June 2017 for a senior human resources position. When it became clear that Mr. Brown demonstrated poor professional skills, was frequently absent from the office, and had apparent holes in his personal background, the company hired a private investigator. By August, Mr. Brown was no longer with the company.

Lior Div, CEO of Cybereason, was quoted in The Information's report as saying that Mr. Brown had falsified his resume, which included previous positions at Google and IBM.

According to Mr. Div, Mr. Brown had emails sent to his supposed references redirected to him and was the one to reply to the company's inquiries regarding his professional history and ability. Employees also noted that Mr. Brown, who claimed to have been recruited by a professional Chicago baseball team prior to college, could barely "swing a bat," the report said.

Mr. Brown was hired through a placement company and a background check made by an external company confirmed his credentials, Mr. Div said in a phone interview with Calcalist on Friday. According to Mr. Div, as soon as it learned about Mr. Brown's deception, the company immediately informed its employees, investors, and clients.

At a meeting with Cybereason staff, Mr. Div was reported by The Information as saying that Mr. Brown, whose true identity could not be confirmed, does not appear to have stolen any sensitive information or intellectual property belonging to the company. According to the report, however, the fraud created an atmosphere of mistrust, leading some employees to leave the company.

According to The Information, 2017 saw a massive departure of at least 60 of the staff—more than 25% of the total of employees working for the company at the beginning of the year—who left the company due to "tensions with new leadership and cultural clashes between the company's offices in Boston and Tel Aviv."

In the report, some employees placed the blame for the departures on Cybereason's new chief revenue officer Andrew Byron, who took office in early 2017. Claiming he tends to lash out at employees, former and current workers reported to The Information that Mr. Byron had a severely harmful effect on the company's culture. Speaking with The Information, Mr. Div said Mr. Byron was a "very solid sales leader", denied cultural problems and claimed that sales have risen by 140% in 2017 and that the first quarter of 2018 exceeded its sales goals by 150%.

In June, Softbank invested $100 million in the company, bringing Cybereason's total equity to $189 million. Following the investment, Mr. Div said in a January interview with Calcalist, that the company plans to hire 300 new employees and expand its Tel Aviv center.