The 50 Startups List
Israeli Startup Develops Device That Sees Through Walls
3D imaging sensor company Vayyar develops a device that uses a system of sensors capable of "seeing" through solid objects and composing an accurate three-dimensional image
Israel-based 3D imaging sensor company Vayyar Imaging Ltd. develops a device capable of seeing through walls. Called Walabot, the device integrates with Android phones letting plumbers, electricians, renovators, and do-it-yourself enthusiasts detect pipes, electric wires, and humidity within walls.

For daily updates, subscribe to our newsletter by clicking here.

This is just one possible application for Vayyar's technology that uses a system of sensors capable of "seeing" through solid objects and composing an accurate three-dimensional image. Using radio waves, Vayyar's sensors are capable of "seeing" through human skin and tissue, as well as through most man-made surfaces.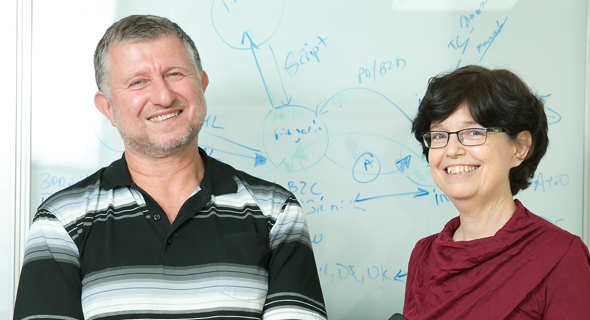 Vayyar co-founders Naftali Chayat and Miri Ratner. Photo: Orel Cohen

Other devices utilizing Vayyar's technology are used for non-invasive diagnosis of breast cancer, manufacture line defects detection, passenger location and position detection in autonomous cars for more effective and safe use of airbags, and smart home applications capable of monitoring and detecting accidents or other emergencies in the home.

Based in the Tel Aviv suburb of Yehud, Vayyar was founded in 2011 by Raviv Melamed, a former Intel executive, with Naftali Chayat and Miri Ratner. The company employs a team of 90 people. In December, Vayyar announced a $45 million Series C investment round, bringing the company's total equity funding to $79 million. Investors in the company include Boston-headquartered venture capital firm Battery Ventures LP, Menlo Park, California-headquartered Bessemer Venture Partners, Israel Cleantech Ventures, and Tel Aviv-based Claltech, the Israeli tech investment vehicle of New York-based holding company Access Industries, founded by industrialist and philanthropist Len Blavatnik.

Also in December, Vayyar announced a collaboration with SoftBank Corporation, a subsidiary of telecommunication firm SoftBank Group Corporation. According to the agreement, Softbank will distribute the company's products in Japan, with a focus on technologies related to public transportation, construction, and elderly care.