Booking.com to Expand Tel Aviv Research Operation
The company plans to hire more people for its local team, and move to offices at a trendy Tel Aviv office tower
Online travel accommodation booking service Booking.com is expanding its Tel Aviv research and development center, the company announced Sunday.

For daily updates, subscribe to our newsletter by clicking here.

The company plans to hire more people for its local team, currently numbering 25 people, and move in July to offices operated by coworking company Labs, at the Azrieli Sarona tower in central Tel Aviv. At over 830-feet (255 meters) tall, the Azrieli Sarona office tower is currently Israel's tallest high-rise, and one of the country's hottest tech real-estates. Leasers include Amazon, Facebook, Magic Leap, and Citibank.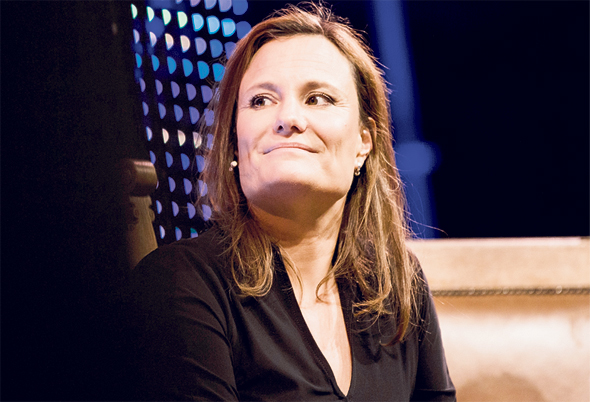 Booking.com CEO Gillian Tans. Photo: Bloomberg

Founded in 1996, Amsterdam-headquartered Booking.com employs more than 15,000 people in 70 countries. Its online accommodations booking service is available in 43 different languages and offers 130,000 destinations in 227 countries and regions worldwide, processing over 1.5 million reservations a day. In 2005, U.S.-based The Priceline Group acquired Booking.com, which has since been operating as its subsidiary.

In September, Booking.com acquired Israel-based startup Evature, that develops natural language and chatbot technologies for the travel industry. In 2014, Priceline bought Israeli online marketing startup Qlika in a small deal.

Labs, a part of the Teddy Sagi Group, launched its first location in London in 2017, with four locations in Camden Market, High Holborn and Southampton Place. Labs intends to open a second Tel Aviv location in the HTowers project, by the end of 2018.

The Azriel Sarona Labs space is already home to several Israeli travel technology startups. "Booking.com is an obvious addition," said Itai Green, who heads an organization that groups Israeli travel tech companies based at Labs called Israeli TravelTech Community in a statement.

In addition to offering offices for startups and small businesses, Labs also offers bigger spaces to bigger companies.