Air France–KLM Launches Direct Flights From Amsterdam to Israel's Southern Resort Town Eilat
The company will operate semiweekly flights on the route through a subsidiary during winter months as part of a government incentive program
Dutch low-cost airline Transavia Airlines C.V., a subsidiary of Air France-KLM S.A., is launching an air route connecting Amsterdam with Eilat, a southern Israeli port and resort town located on the country's Red Sea coast, Israel's Ministry of Tourism announced Monday.
For daily updates, subscribe to our newsletter by clicking here.
In the first quarter of 2018, around 17,700 tourists have entered Israel from The Netherlands, which represents a 37% increase compared to the same period last year and an 80% increase compared to the same period in 2016, according to ministry statements.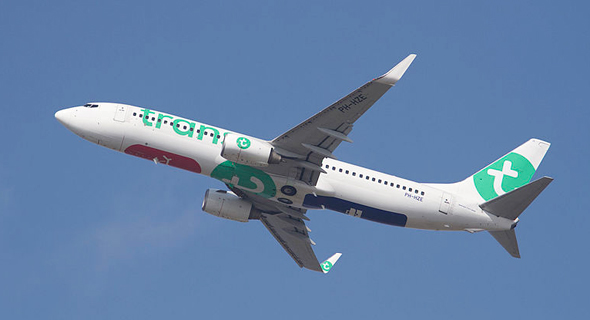 Transavia airplane. Photo: Wikipedia/Russell Lee
Starting November 3, the airline will operate two weekly flights on the new route, on Wednesdays and Saturdays, during the winter months. The flights will take off from Amsterdam's Schiphol airport and land at Ovda Airport, an international airport located 37 miles north of Eilat. Transavia already operates direct flights to Ovda from Paris' Orly Airport.
The new route is part of an official program by Israel's Ministry of Tourism, offering airlines financial incentives to open new routes servicing the country's most southern resort town. Other low-cost companies to join the program in the past include Wizz Air Hungary Ltd. and Irish airline Ryanair DAC.