Attempting to Delist, Cancer Treatment Company BioCanCell Issues New Shares
The company diluted existing investors that opposed its plans to delist from the Tel Aviv Stock Exchange
Cancer treatment company BioCanCell Ltd. is looking to delist from the Tel Aviv Stock exchange as part of a $22.8 million investment deal, but a shareholder group that holds a 4%-5% stake is impeding the move. Now the company and its parent company Clal Biotechnology Industries Ltd. are issuing new securities to dilute the group's stake and lessen their control.

For daily updates, subscribe to our newsletter by clicking here.

BioCanCell is a clinical-stage company developing gene therapies for cancer, with a special focus on early stage bladder cancer. Founded in 2004, the company is based in Jerusalem, Israel and Cambridge, Massachusetts.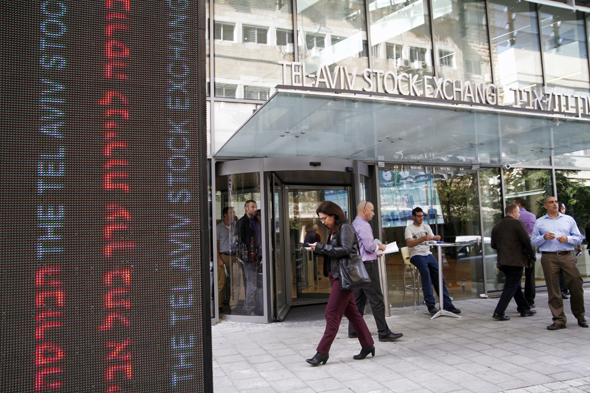 Tel Aviv Stock Exchange. Photo: Bloomberg

In October 2017, BioCanCell announced a potential investment from a group of Israeli-American investors led by Jerusalem-based investment firm Shavit Capital, contingent on its delisting from the Tel Aviv Exchange. In December, a shareholder group holding an 89% stake in the company made an acquisition offer to the rest of the shareholders, according to a value of NIS 1.4 per share. Two weeks later, the offer was upped to NIS 1.7 per share (around $0.48), nearly twice the stock's trading value at the time.

Some of the shareholders turned down the offer, claiming that they were unwilling to be bought out by the controlling shareholders at the current prices, according to one shareholder who spoke with Calcalist on condition of anonymity.

Unwilling to waive the investment, BioCanCell and Clal chose a different tactic. BioCanCell issued 59 million new shares, which now constitute 38% of the company's shares, in return for the investment. If approved by shareholders, that stake will be reduced to around 5.9 million shares due to share consolidation. As this diluted the stake held by the public in BioCanCell to less than the 10% demanded by the exchange, on Sunday Clal announced it has sold 7.6 million shares (8%) of its stake to Israel-based investment manager Yelin Lapidot - Mutual Funds Management Ltd. for NIS 8 million ($2.26 million), a 15% discount on the stock's trading price. Clal now holds a 36% stake in BioCanCell.

If Clal leads a new acquisition offer now, the decision to sell will hinge more on Yelin Lapidot than on the reluctant shareholder group, whose stake has been diluted.

Another possible avenue to delist BioCanCell from Tel Aviv is through an initial public offering in the U.S. The company stated in January it would seek a U.S. IPO in 2018. By listing overseas the company would be able to delist from Tel Aviv without a go-ahead from the shareholder minority, as they would be issued new stock instead.