The Challenges of Living on Mars: Air, Water, Lack of Personal Space
Israeli designers of a closed habitat intended to simulate life on Mars, say cohabitation in a small space is one of the factors that need to be addressed while planning a Mars dwelling
In February 2018, an Israeli group of six scientists conducted a four-day, closed habitat experiment intended to simulate life on Mars. Called Desert Mars Analog Ramon Station, or D-MARS for short, the station is located in the Ramon Crater, in the Israeli Negev desert, which bears some resemblance to the red planet in terms of geology, and aridity.
For daily updates, subscribe to our newsletter by clicking here.
Alongside self-sufficiency demands, scalability, reusability, and compactness, the design of a Mars dwelling must also take into account cohabitation in a small space as a major challenge, said on Tuesday architect Alon Shikar, who was part of the habitat's design team and one of the participants in the February experiment. Mr. Shikar spoke at a conference held by the School of Sustainability at the Interdisciplinary Center in Herzliya, together with the Fisher Brothers Institute for Air and Space Strategic Studies and D-MARS.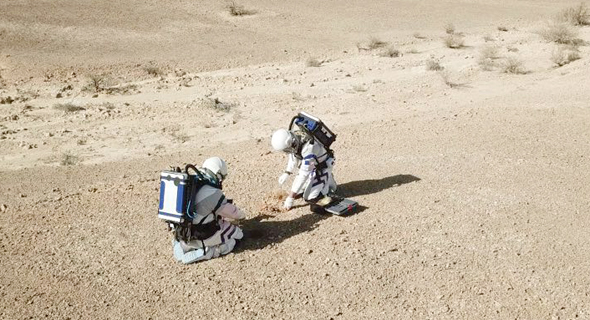 The D-MARS habitat experiment in the Ramon Crater, Israel. Photo: D-MARS

A Mars is barren and lacks an ozone layer, any dwelling planned for the planet will need to provide astronauts with breathable air, and water for personal consumption and agriculture.

Spanning 50 square meters when deployed, the habitat was created in just 12 weeks, on a budget of $15,000. It is powered by 18 photovoltaic 255 watts panels, designed for energy consumption of 1000 watt, or 3500 watts at maximum capacity. The six scientists were allotted 280 liters of water for four days, including 100 liters of grey recycled water.

To address issues related to the need for personal space on a lengthy mission that is almost entirely cut off from all human contact beyond a small team, the D-MARS habitat was planned to include a core community area, with a small section allotted for personal exercising for team members who want to clear their head, said Moshe Zagai, one of the designing architects.

The idea of colonizing Mars has been on humanity's mind as a plausible possibility since the 1969 Moon landing, Tal Inbar, head of space and UAV research center at the Fisher Institute, said at the conference.

While the technology required to successfully launch off Mars and get back to earth does not yet exist, Mr. Inbar said one of the challenges of traveling deep space travel is currently being addressed by SpaceX. In 2017, founder and CEO of SpaceX Elon Musk said the company hopes to launch an unpiloted mission with a rocket that would eventually be able to carry a team of people to Mars as early as 2022.