Tow Truck Satellite Startup to Launch Two Service Spacecraft in 2020
Effective Space signed a launch deal with U.S.-based International Launch Services (ILS). The company aims to follow the 2020 launch with the launch of six more spacecraft every year
Israeli aerospace company Effective Space Solutions Ltd. signed a deal with U.S.-based launch services provider International Launch Services (ILS) to launch two of Effective Space's "Space Drone" spacecraft into orbit in 2020, the companies announced Tuesday. The spacecraft will be launched with ILS' Proton Breeze M vehicle from the Baikonur Cosmodrome in Kazakhstan.

For daily updates, subscribe to our newsletter by clicking here.

Founded in 2013 and headquartered in the greater Tel Aviv metropolitan area with additional offices in the U.K., Effective Space develops a small spacecraft that provide satellite operators with life-extension and end-of-life services, such as station keeping, orbit correction and relocation, and de-orbiting.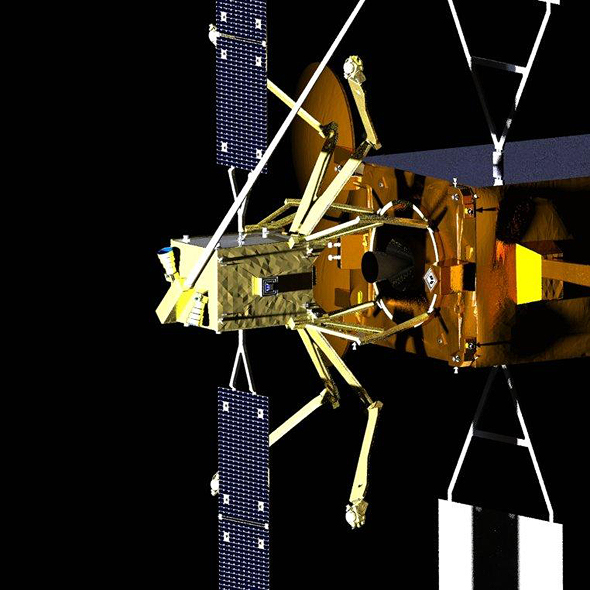 An illustartion of Effective Space's Space Drone. Image: PR

The company's "Space Drone" spacecraft weigh less than 400 kilograms and can dock on almost all communications satellites currently in orbit. Once docked on a host satellite, the spacecraft provides maintenance that is capable of extending the life of the satellites by several years. Effective Space's spacecraft is capable of multiple missions during its 15-year lifespan.

In January, Calcalist reported that Effective Space signed a $100 million multi-year contract to provide maintenance services to satellites operated by an undisclosed customer, described by Effective Space as a "major regional satellite operator." As part of the deal, the company's first, Effective Space agreed to launch two "Space Drone" spacecraft in 2020 to service two communication satellites.

Effective Space also announced a planned fleet expansion of up to six "Space Drone" spacecraft a year, to be launched annually following the 2020 launch. According to the company, these spacecraft will support low Earth orbit (LEO) constellations and perform debris-removal and other logistical missions.

"Launching our first two "Space Drone" spacecraft into a geostationary orbit is part of our strong commitment to our first customer, meeting mission timeline and ensuring smooth transition into a life-extension service," Arie Halsband, founder and CEO of Effective Space, said in a statement.