IronSource Taps Silicon Valley Bank to Show Shareholders the Money
Mobile and web monetization and software distribution company IronSource intends to award its shareholders with dividends of up to $250 million combined, according to a request submitted to a Tel Aviv court
Mobile and web monetization and software distribution company IronSource Ltd. intends to award its shareholders with dividends of up to $250 million combined, according to a request submitted to Tel Aviv district court at the end of March. For the dividends, IronSource contracted with a financial group led by Silicon Valley Bank, which will extend the company credit of up to $50 million according to its needs, and a loan of $100 million to be repaid over six years in quarterly payments, according to the court documents.
For daily updates, subscribe to our newsletter by clicking here.
IronSource, founded in 2009, started as a developer of software for managing and optimizing downloads before changing its focus following several acquisitions. Today the company is a main player in the rewarded ads market.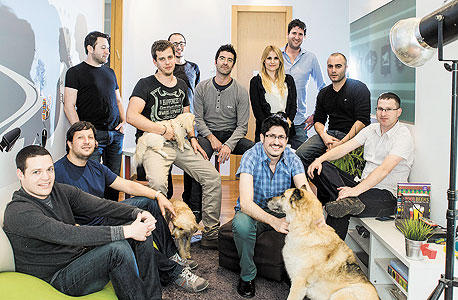 The IronSource team. Photo: Tommy Harpaz

In March's filing, the privately-held company reported revenues of $461.6 for 2017 and a net income of $59.8 million. The company committed to paying dividends of at least $30 million combined, but no more than $250 million.

IronSource predicts an annual cash flow of $50 million to $80 million for 2018-2023 and estimates that at the end of the fiscal year 2023 it will have $387.5 million in its coffers. However, the company also presented a worst-case scenario of diminishing cash flow for the years 2018-2021 and negative cash flow for 2022-2023. If that situation will occur, IronSource estimates it will only have $16.5 million at the end of 2013.

At the end of March 2018, IronSource had cash reserves of $100 million, according to the filing, and the company estimates another $30 million will be added by the end of June. Therefore, after bestowing the dividends, the company will remain with at least $30 million. The company also reported that it is assured future commitments from its clients to the sum of $50 million to $100 million, enough to guarantee its operations for the next 12 months.

IronSource's shareholders include Israel-based Viola Ventures, Los-Angeles-based Saban Ventures, the venture arm of Saban Group, Allied Holdings, the controlling shareholder of Champion Motors Israel, and Arik Czerniak, co-founder of app monetization company Supersonic, acquired by IronSource in 2015.

IronSource stated its board of directors approved the decision.