The 50 Startups List
Calcalist's 2018 List of 50 Most Promising Israeli Startups
Long known as a hotbed for innovative quick-to-sell startups, Israel is now home to over 200 growth stage companies
Click Here for the 2020 Edition: 50 Most Promising Israeli Startups >>

Long known as a hotbed for innovative quick-to-sell startups, Israel is now home to over 200 growth stage companies that bring in revenues of over $10 million a year, employing dozens of people. A smaller group of Israeli private companies now bring in revenues of over $100 million, in some cases employing hundreds, and seeking valuations that top $1 billion. This change was brought about by an increased availability of funds, coming not just from traditional venture capital firms but also from private equity firms, and now also from mega funds such as Softbank's Vision Fund.

Click Here for the 2020 Edition: 50 Most Promising Israeli Startups >>

For the 2019 list of 50 most promising startups click here.

Calcalist's annual ranking of Israel's most promising startups has by now become a tradition. To compile the list, now published for the tenth year in a row and for the first time published in English, we have approached a long series of prominent investors, consultants and entrepreneurs operating in Israel, asking them to mark out the startups that are the fastest growing in terms of sales and overall momentum and have the highest chances of attaining significant milestones within the next 12 months. Each of the people we approached was asked to refrain from pointing to companies in which they have an interest.

Investment firms consulted to compile the list include the following: Lightspeed Venture Partners, Vertex Venture Capital, Aleph Venture Capital, Pitango Venture Capital, 83 North Venture Capital, Viola Ventures, Dell Technologies, LeumiTech, Disruptive Technologies Venture Capital, Glilot Capital Partners, Bessemer Venture Partners, Altshuler Shaham Benefits, Comcast Ventures, State of Mind Ventures, and Gigi Levy-Weiss.

The following list does not include six of Israel's most successful technology startups: online payments company Payoneer Inc., content distribution companies Taboola Inc. and Outbrain Inc., disaster recovery software company Zerto Inc., data storage company Infinidat Ltd., and mobile and web monetization company IronSource Ltd.. Having grabbed the top spots on Calcalist's ranking in previous years, we believe these companies, some already generating annual sales in the high hundreds of millions, have already matured beyond the scope of the current list.

1. Cybereason Inc.

Sector: Enterprise cybersecurity

Founders: Lior Div, Yonatan Striem Amit, and Yossi Naar

Year founded: 2012

Number of employees: 400, 150 of them in Israel and 250 in Boston, London, Sydney, and Tokyo

Funding: $189.5 million from Softbank, Lockheed Martin, Spark Capital and Charles River Ventures (CRV)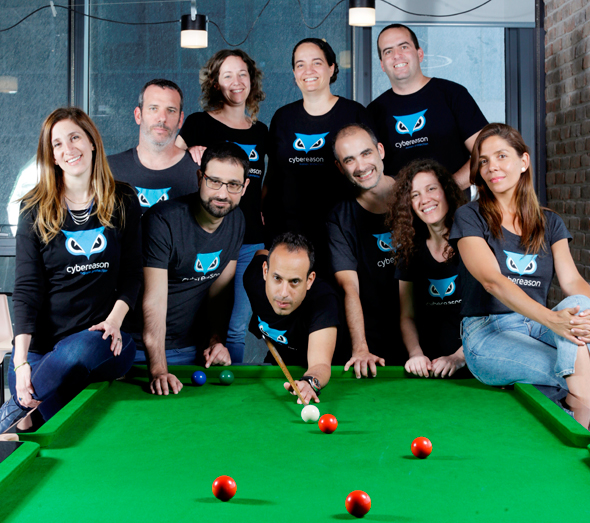 Cybereason's mangement team. Photo: Tommy Harpaz

Based in Tel Aviv, Cybereason aims to be the go-to information security company in a world in which no cyber-walls can stop dedicated hackers from finding the breach that would let them into the computer systems of businesses. Cybereason's software collects and analyzes data about programs running on the computer network in organizations, files accessed by users, and even keystrokes and mouse movements to detect hackers operating on the network. Backed by Softbank, the company has executed an aggressive plan to ramp up sales in the U.S. and gain a foothold in the Japanese market.

2. Vayyar (Vayyar Imaging Ltd.)

Sector: 3D imaging

Founders: Raviv Melamed, Naftali Chayat, and Miri Ratner

Year founded: 2011

Number of employees: 90 in Israel

Funding: $79 million in equity funding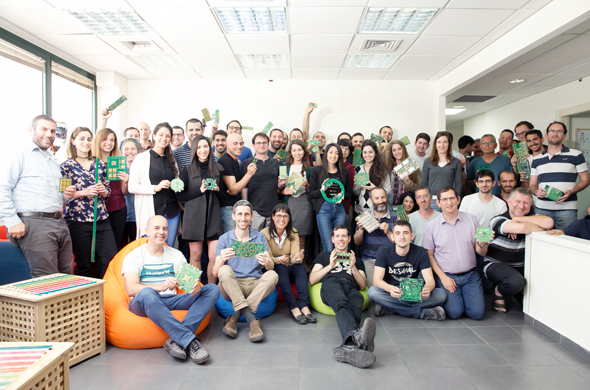 Vayyar's team. Photo: Orel Cohen

Based in the Tel Aviv suburb of Yehud, Vayyar's technology uses a system of sensors capable of "seeing" through solid objects and composing an accurate three-dimensional image. Vayyar's sensors are capable of penetrating human tissue, skin and most man-made surfaces using radio waves. In December, Vayyar announced a $45 million Series C investment round, bringing the company's total equity funding to $79 million. Investors in the company include Boston-headquartered venture capital firm Battery Ventures LP, Menlo Park, California-headquartered Bessemer Venture Partners, Israel Cleantech Ventures, and Tel Aviv-based Claltech, the Israeli tech investment vehicle of New York-based holding company Access Industries, founded by industrialist and philanthropist Len Blavatnik.

3. Next Insurance Inc.

Sector: insurtech

Founders: Guy Goldstein, Nissim Tapiro, and Alon Huri

Year founded: 2016

Number of employees: 52 in Israel and California

Funding: $53 million in equity funding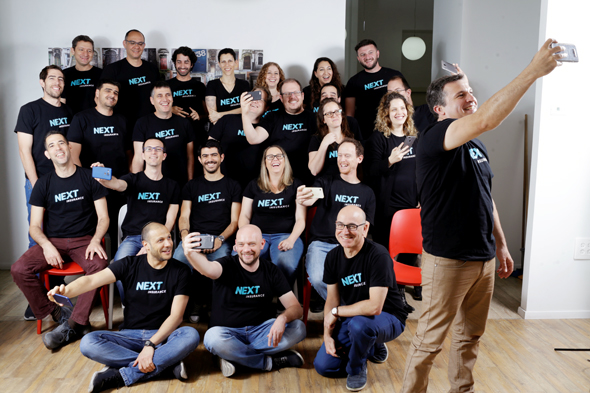 Next Insurance's team. Photo: Amit Sha'al

Next Insurance develops an online service where small business owners can purchase insurance, in a process that takes up to several minutes. The insurance policies sold by the company are customized for the specific needs of each business, and the company is offering unique policies for private kindergartens, personal trainers, home renovators and other professional service providers. The company has 25 employees at its Silicon Valley headquarters and an additional 27 workers in its Israel development center in Kfar Saba, a town north-east of Tel Aviv. Next Insurance has raised $53 million from investors, including American Express Ventures, Israeli Venture Firm TLV Partners, and Nationwide Mutual Insurance.

4. BlueVine (BlueVine Capital Inc.)

Sector: fintech

Founders: Eyal Lifshitz, Moti Shatner and Nir Klar

Year founded: 2013

Number of employees: 190 in Israel and California

Funding: $68 million in equity funding, over $200 million in debt financing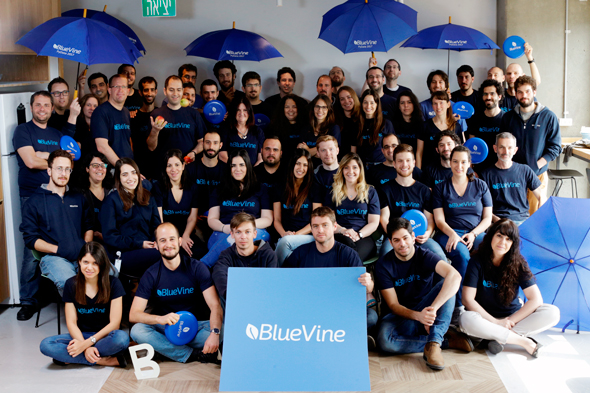 BlueVine's team. Photo: Amit Sha'al
BlueVine offers small and medium-sized businesses online capital financing, either by credit line or invoice factoring. The company was established to answer an unmet need in the U.S. financial market—personal loans, which most banks are hesitant to offer. To date, BlueVine raised $68 million in equity and over $200 in debt financing for its credit line business, and granted over $500 million in loans just in 2017. Headquartered in Redwood City, California, the company employs 190 people in California and Israel.
5. Yotpo Ltd.
Sector: online marketing
Founders: Tomer Tagrin and Omri Cohen
Year founded: 2011
Number of employees: 300 people in New York, Utah, Tel Aviv and London
Funding: $101 Million in equity funding from investors including Vertex Ventures, Blumberg Capital, and Marker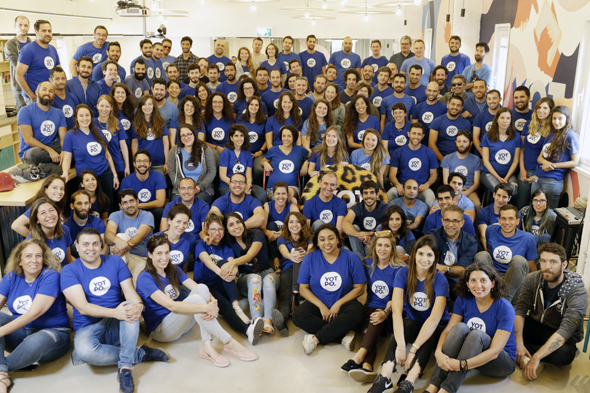 Yotpo's team. Photo: Amit Sha'al

Yotpo enables brands and online retailers to manage and respond to different types of user-generated online content that is related to their products and services. The company also offers an artificial intelligence-based analysis tool for customer reviews. Clients include GoPro Inc., American department stores chain Sears, and retail company 1-800-Flowers.com Inc. To date, Yotpo raised $101 million, $51 million of that sum in November 2017. Employing 300 people, the company is headquartered in New York with a development center in Tel Aviv and additional offices in Utah and London.

6. MyHeritage Ltd.

Sector: genealogy, genetic testing

Founders: Gilad Japhet

Year founded: 2003

Number of employees: 430 in Israel, the U.S., and Europe

Funding: $49 million in equity funding from investors including Bessemer Venture Partners and Index Ventures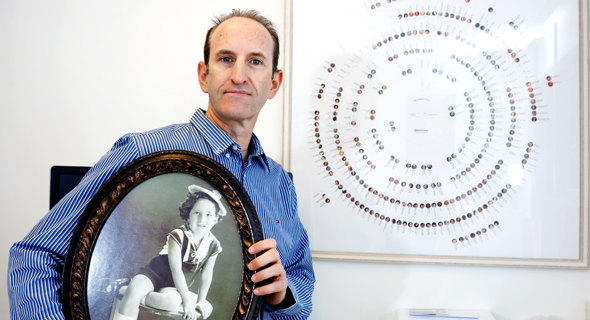 MyHeritage CEO Gilad Japhet. Photo: Shaul Golan
MyHeritage enables users to create family trees by searching through historical documents such as census, immigration, marriage and burial records, and newspaper articles. The company's services are available in 42 languages, and its website has over 40 million family trees and 2.9 billion profiles. In 2016 the company launched a genetic testing service that provides both DNA matching and ancestry and ethnicity estimates, and its database already has DNA samples from over 1.25 million people. In recent months, the company has also begun to develop predictive algorithms for genetic conditions, based on its family tree database and medical history questionnaires users fill.
7. SimilarWeb Ltd.
Founders: Or Offer
Year founded: 2009
Number of employees: 420 in Israel, the U.S., the U.K., China and Japan
Funding: $112 million in equity funding from investors including Viola Growth, Naspers and Saban Ventures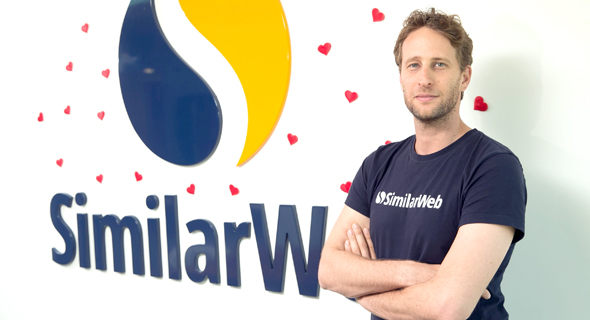 Similarweb CEO Or Ofer. Photo: Orel Cohen
SimilarWeb offers data tracking and digital market research services to premium customers like Airbnb, HSBC, eBay, and Walmart. The company enables users to receive analytics and insights on metrics such as engagement, traffic, and popular keywords, for both their own websites and apps and those of competitors. In July 2017 the company raised $47 million, which were used to hire additional employees and expand to East Asia.
8. Lightricks Ltd.
Sector: photo editing apps
Founders: Zeev Farbman, Amit Goldstein, Itai Tsiddon, Nir Pochter, Yaron Inger
Year founded: 2013
Number of employees: 115 in Jerusalem
Funding: $10 million in equity funding from Viola Ventures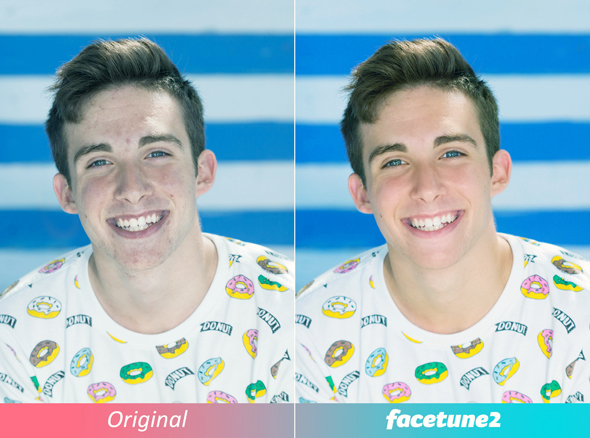 Facetune by Lightricks. Photo: Lightricks
Lightricks was established by five entrepreneurs with an extensive background in computer graphics and image processing, who recognized a gap between existing technology and the image processing tools offered to smartphone users. The company's first photo editing app, Facetune was downloaded by 20 million people and brought in $40 million for the company. It won several awards, including the Apple Design Award for a photo editing app in 2017. For its newer video editing app, Enlight Videoleap, Lightricks moved to a business model that offers a free app with paid features. Enlight was one of nine apps to win Apple's 2017 iPhone app of the year award. The company raised $10 million in 2015. In December, CEO Zeev Farbman said the company currently has no intention to raise funds, as its products are profitable.
9. JFrog Ltd.
Sector: software
Founders: Frederic Simon, Shlomi Ben Haim, Yoav Landman
Year founded: 2008
Number of employees: 330 in Israel, China, France and California
Funding: $65 million in equity funding from investors including Battery Ventures LP, Scale Venture Partners, EMC and Dell Technologies subsidiary VMware Inc.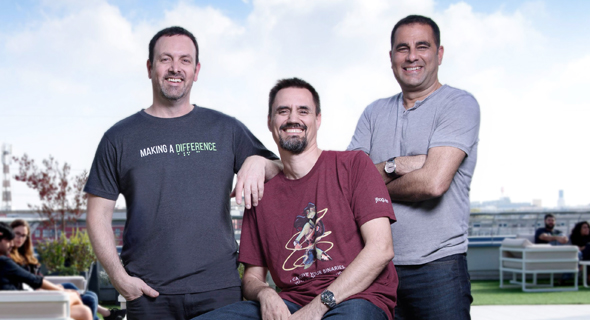 JFrog's co-founders Yoav Landman (left), Frederic Simon (middle), and Shlomi Ben Haim (right). Photo:: Shachar Maor
JFrog develops binary code management tools for software developers and DevOps teams. The company's products integrate with different development environments, enabling more efficient application development and release processes. Its technology is used by over 5,000 clients, including leading companies such as Snapchat, Uber, Bank of America, Google, Amazon, and Netflix. In 2017 the company expanded its target markets and signed Mercedes-Benz and BMW, and now it is now looking to enter the Internet of Things industry.
10. Drivenets Ltd.
Sector: telecommunication, software
Founders: Ido Susan and Hillel Kobrinsky
Year founded: 2015
Number of employees: over 100 in Israel
Funding: self-funded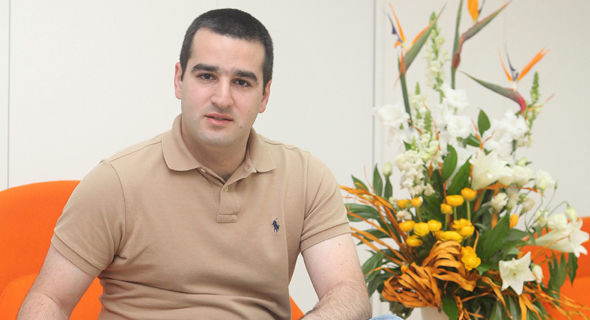 Drivenets co-founder Ido Susan. Photo: Orel Cohen

Drivenets is aiming to change the way networks are built and managed by developing cloud-defined routing and switching for communication service providers. The company's software automates operations, reduces cost and complexity while at the same time improving reliability, and allows service providers to avoid relying on specific vendors while answering the ever-growing market demand better. The company was founded by Ido Susan, co-founder of Intucell, acquired by Cisco for $475M in 2013, and by Hillel Kobrinsky, co-founder of Interwise, acquired by AT&T for $121M in 2007.

11. OrCam (OrCam Technologies Ltd.)

Sector: computer vision

Founders: Amnon Shashua and Ziv Aviram

Year founded: 2010

Number of employees: 170 in Israel, the U.S., Germany, and the U.K.

Funding: $130 million in equity funding from Intel Capital, the BRM group, Aviv Venture Capital and private investors.

OrCam develops and manufactures visual aid devices for the blind and visually impaired. OrCam's technology complies a smart camera and earbud which are mounted on a pair of eyeglasses. The camera is capable of identifying and processing visual information such as written text, facial features, and barcodes, and the information is passed on verbally. OrCam has set a goal to develop a device bearing the same object identification abilities of the human eye. OrCam was founded by Amnon Shashua and Ziv Aviram, co-founders of Mobileye, which was bought by Intel in 2017 for $15.3 billion. Jerusalem-based OrCam has raised $130 million in equity funding from Intel Capital, the BRM group, Aviv Venture Capital and from private investors. The company employs a team of 170 in its offices in Israel, the U.S., Germany, and the U.K.

12. WalkMe

Sector: publisher tools

Founders: Rafael Sweary, Dan Adika, and Eyal Cohen

Year founded: 2011

Number of employees: 600 in Israel, the U.S., Japan, Australia, and France

Funding: $167 million in equity funding from Insight Venture Partners, Giza Venture Capital, Mangrove Capital Partners, and Greenspring Associates, among other investors

WalkMe helps users navigate web pages by adding a layer of on-screen navigation guidance and assistance to existing websites. WalkMe's service is powered by artificial intelligence technology and can recognize when users require assistance, even automatically completing certain online tasks. WalkMe's service can be added to any website with no additional coding. Founded in 2011, WalkMe employs a 600-person team in Israel, the U.S., Japan, Australia, and France. The company has raised $167 million to date from investors such as Insight Venture Partners, Giza Venture Capital, Mangrove Capital Partners, and Greenspring Associates. WalkMe lists Paypal, Cisco, Spotify, and Adobe as customers.

13. Checkmarx Inc.

Sector: Cybersecurity

Founders: Emmanuel Benzaquen and Maty Siman

Year founded: 2006

Number of employees: 400 in Israel, the U.S., Brazil, Singapore, Germany, the U.K., Portugal, and France

Funding: $100 million in equity funding, mostly from Insight Venture Partners

Checkmarx develops and markets cybersecurity technology for app developers. Checkmarx's software automatically scans app development code to detect security breaches and confirm the code adheres to security requirements. The company, which was founded in 2006, forecasts more than $100 million in sales in 2018. Checkmarx employs a team of 400 people, mostly in its offices in Israel. The company also operates offices in the U.S., Brazil, Singapore, Germany, the U.K., Portugal, and France. Checkmarx raised $100 million in equity funding, mostly from Insight Venture Partners.

14. Monday.com (formerly DaPulse Labs)

Sector: organizational productivity

Founders: Roy Man and Eran Zinman

Year founded: 2012

Number of employees: 100, mostly in Tel Aviv, and in the U.S.

Funding: $34 million in equity funding from Genesis Partners and Insight Venture Partners

Monday.com develops and markets team management services for organizations and businesses such as universities, hotels and restaurants, and manufacturing companies. Monday.com's platform allows users to manage and track projects, manufacturing lines, and schedules, among other processes. Founded in 2012 as DaPulse Labs, the company changed its name in 2017. That year, it increased its customer base from 4,000 to 25,000 and tripled its revenue, which added up to $24 million. In 2018, the company forecasts it will have 50,000 customers and $50 million in revenues. Having started 2017 with 30 employees, Monday.com now employs a 100-person team, mostly in Tel Aviv, with an additional office in New York. The company raised $34 million in equity funding from Genesis Partners and Insight Venture Partners.

15. Kaltura

Sector: Video

Founders: Michal Tsur, Ron Yekutiel, Shay David, and Eran Etam

Year founded: 2006

Number of employees: 450, in Israel, the U.S., U.K., Brazil, Japan, and Singapore

Funding: $156 million in equity funding from Goldman Sachs, Intel Capital, Mitsui Global Investments, Inc., and Nokia Growth

Kaltura develops and markets a video creation, management, and distribution platforms for organizations and companies such as Disney, Warner Brothers, Intel, Oracle, and Bank of America, and for universities such as Stanford, and Columbia. The company was founded in 2006 in the greater Tel Aviv metropolitan area and now employs a team of 450 in Israel, the U.S., U.K., Brazil, Japan, and Singapore. Kaltura raised $156 million in equity funding from Goldman Sachs, Intel Capital, Mitsui Global Investments, Inc., and Nokia Growth.

16. Via (Via Transportation Inc.)

Sector: ridesharing, autonomic vehicles

Founders: Daniel Ramot and Oren Shoval

Year founded: 2012

Number of employees: 200, mostly in Tel Aviv and New York

Funding: $387 million in equity funding from Daimler AG, 83North, Hearst Ventures, Russian billionaire Roman Abramovich, Pitango Venture Capital, and Poalim Capital Markets

Via developed and operates a carpooling ride-hailing app. Via's app matches multiple passengers headed the same way with a single large SUV or van. Via provides over a million rides a month across New York, Washington D.C., Chicago, London, Berlin, and Amsterdam. In 2017, Via received a $250 million investment from automaker Daimler AG, with whom Via is also collaborating on the development of electrical and autonomic vehicles. The company has raised $387 million in equity funding from Daimler, 83North, Hearst Ventures, Russian billionaire Roman Abramovich, Pitango Venture Capital, and Poalim Capital Markets. Established in 2012, New York-headquartered Via has around 200 employees in Israel, the U.S., and Europe.

17. Moovit (Moovit App Global Ltd.)

Sector: public transportation

Founders: Roy Bick, Yaron Evron, and Nir Erez

Year founded: 2012

Number of employees: 150, mostly in Israel

Funding: $135 million in equity funding from Intel Capital, Sequoia Capital, BMW's investment arm BMW i Ventures Inc., NGP Capital, Sound Ventures, Vintage Investment Partners, BRM Group, Gemini Israel Ventures, Vaizra Investments

Moovit developed and operates a free app that provides real-time public transportation information to a global user base of over 150 million people in 2,000 cities and 80 countries. Moovit uses user-based data to track the location of buses and trains. According to the company, Moovit app users create 2 billion individual pieces of data on public transit and urban traffic. The company expects to reach 1 billion users by 2021 and expand the number of cities in which the service is available. Founded in 2012 and based in Ness Ziona, a town in central Israel, Moovit currently employs around 100 people. The company raised $135 million in equity funding to date, from Intel Capital, Sequoia Capital, BMW's investment arm BMW i Ventures Inc., NGP Capital, Sound Ventures, Vintage Investment Partners, BRM Group, Gemini Israel Ventures, Vaizra Investments, and other investors.

18. Redis Labs

Sector: Databases

Founders: Yiftach Shoolman and Ofer Bengal

Year founded: 2011

Number of employees: 200 in Israel, California, London, Paris, and other cities

Funding: $78 million in equity funding from Goldman Sachs, Dell Technologies Capital, Viola Ventures, and Bain Capital

Redis Labs develops and sells database software based on a popular open source database called Redis. The company lists American Express, Visa, Wallmart, eBay, Starbucks, Twitter, Apple, Cisco, and Dell among its customers. Redis Labs forecasts $50 million in revenue in 2018 and expects to reach sales valued at $100 million a year within two years. Founded in 2011, Redis Labs employs a 200-person team in Israel, California, London, Paris, and in other cities. To date, it raised $78 million in equity funding from Goldman Sachs, Dell Technologies Capital, Viola Ventures, and Bain Capital.

19. Datorama Ltd.

Sector: marketing analytics

Founders: Ran Sarig, Katrin Rabint, and Efi Cohen

Year founded: 2012

Number of employees: 330 in Israel and in 17 cities worldwide, including New York, London, Tokyo, and Sydney

Funding: $50 million in equity funding from Lightspeed Management Company LLC, Marker LLC, and Innovation Endeavors

Datorama develops artificial intelligence-powered marketing analytics software that has been integrated into Alexa, Amazon's voice-enabled artificial intelligence service for smart devices. Datorama doubled its revenue and team in 2017 and expects to reach annual sales of $100 million in the near future. Founded in 2012, Datorama employs 330 people in its New York headquarters, research and development center in Israel, and offices in 16 other cities worldwide. Datorama raised $50 million from Lightspeed Management Company LLC, Marker LLC, and Innovation Endeavors.

20. Lemonade Inc.

Sector: insurance

Founders: Shai Wininger and Daniel Schreiber

Year founded: 2015

Number of employees: 76 in Tel Aviv and New York

Funding: $180 million in equity funding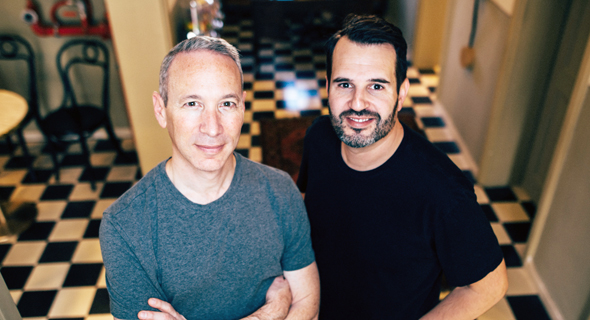 Lemonade co-founders Shai Wininger and Daniel Schreiber. Photo: Ben Kelmer

Lemonade offers property and casualty insurance policies in 11 U.S. states with plans to expand to 17 more, charging a flat monthly rate. The company's business model bypasses traditional insurance brokers and instead relies on bots and machine learning technologies to connect with customers, who can contact the company through its website or dedicated apps. Lemonade has sold more than 100,000 policies in 2017, and has donated 10% of its annual revenue, amounting to over $53,000, to charity, according to company statements. In December, Lemonade announced a $120 million Series C round led by the Softbank Group Corporation.

21. Sisense Ltd.

Sector: business Intelligence

Founders: Adi Azaria, Aviad Harell, Eldad Farkash, Guy Boyangu and Elad Israeli

Year founded: 2004

Number of employees: 350 in Israel and the U.S.

Funding: $94 million in equity funding

Sisense develops business intelligence software for big datasets, which allow companies to gain insights on customers and users without requiring professional data analysts. The company has raised $94 million from Bessemer Venture Partners and other investors. After recruiting over 100 people in the past year, Sisense now employs around 350 people in its headquarters in Ramat Gan, a Tel Aviv suburb, and in additional offices in New York and Scottsdale, Arizona. Sisense counts Nasdaq, NASA, and eBay among its customers.

22. Playbuzz Ltd.

Sector: Interactive content

Founders: Tom Pachys and Shaul Olmert

Year founded: 2013

Number of employees: 180 in Israel, Europe, and the U.S.

Funding: $66 million in equity funding

Playbuzz started out as an online social content creation service focusing on polls, quizzes and listicles. Recently, the company expanded its activity to include branded content for commercial partners published on third-party websites. Originally founded in Tel Aviv in 2012 by Tom Pachys and Shaul Olmert, son of former Israeli Prime Minister Ehud Olmert, Playbuzz is now headquartered in New-York, with additional offices in Moscow, London, São Paulo, Tel Aviv, Los Angeles, Hamburg, and Lviv, Ukraine. In September, the company announced it had raised $35 million in a Series C funding round led by Israel-based Viola Growth Management Fund, with participation from existing investors including Disney, Saban Ventures, the investment arm of Saban Capital Group Ltd., 83North Ltd., and Carmel Ventures Ltd. This investment brought the company's total equity to $66 million.

23. Wibbitz Ltd.

Sector: Automated videos

Founders: Zohar Dayan and Yotam Cohen

Year Founded: 2011

Number of employees: 100 in Israel, New York, Paris and London

Funding: $30.8 million in equity funding

New York-headquartered Wibbitz develops an artificial intelligence-based online service that automatically creates short-form videos from existing texts. The service is used by publishers such as Reuters, Bloomberg, CBS Interactive, and Forbes, to transform written articles into videos that can be shared on social media, and is capable of adapting to the requirements of different social networks. In October the company announced a $20 million funding round, bringing the company's total equity funding to $30.8 million. Founded in 2011, with additional offices in Tel Aviv, Paris, and London, Wibbitz employs 100 workers and intends to hire an additional 50 by the end of 2018, according to information by the company.

24. Gett Inc.

Sector: ride-hailing services

Founders: Dave Waiser and Roi More

Year founded: 2009

Number of employees: 1,800 in Israel, the U.S., the U.K. and Russia

Funding: $640 million in equity funding

Initially known as GetTaxi, Tel Aviv-headquartered Gett operates a ride and delivery-hailing app active throughout Israel, in New York and in major cities in Russia and the U.K. The company employs around 1,800 people, some 400 of which in Israel, and has 230,000 drivers worldwide, including 30,000 just in New York, according to information by the company. Gett has raised $640 million in funding, including a $300 million investment by German automaker Volkswagen AG in 2016. That same year, it acquired Radio Taxis, a UK-based black cab firm, and Juno, a rival in the New-York market. Last year it acquired Streetsmart, a startup developing a route-finding system for taxi fleets.

25. Fiverr (Fiverr Int. Ltd.)

Sector: gig marketplace

Founders: Micha Kaufman, Shai Wininger, and Guy Gamzu

Year founded: 2010

Funding: $111 million in equity funding

Founded in 2010 by Shai Wininger, who later co-founded insurance startup Lemonade Inc., Guy Gamzu, and Micha Kaufman, Fiverr allows users to buy and sell professional services online for as low as $5. The company now offers a premium service allowing popular freelancers on the site to offer their work for a higher pay. Headquartered in Tel Aviv with additional offices in New York, Chicago, Miami and San Francisco, Fiverr has raised $111 million from investors including Melbourne, Australia-based Square Peg Capital, Menlo-Park, California-headquartered Bessemer Venture Partners and Tel Aviv-based Qumra Capital. Last June, Fiverr acquired San Francisco-based video production marketplace company VeedMe Ltd., and in January, it acquired New York-based back-office startup And Co.

26. Innovid Inc.

Sector: video marketing

Founders: Zvika Netter, Tal Chalozin and Zack Zigdon

Year founded: 2007

Funding: $65 million, from investors including Sequoia Capital,

Genesis Partners, Silicon Valley Bank Financial Group and Cisco Investments

27. Kenshoo Ltd.

Sector: automated marketing campaign management across various media

Founders: Yoav Izhar-Prato, Alon Sheafer, Nir Cohen

Year founded: 2006

Funding: $65 million from Sequoia Capital, Bain Capital Ventures, Tenaya Capital, Arts Alliance Ventures

28. StartApp Mobile Technologies Ltd.

Sector: data-driven marketing strategy

Founders: Gil Dudkiewicz and Ran Avidan

Year founded: 2010

Funding: $5.6 million from Ascent Venture Partners, Cedar Fund, TPY Capital

29. Voyager Labs Inc.

Sector: artificial intelligence-based search engine for enterprises

Founders: Avi Korenblum

Year founded: 2012

Funding: $100 million from Horizon Ventures, Ronald Cohen, OCAPAC Holding Company and Lloyd Dorfman

30. GlassesUSA LLC

Sector: online retail

Founders: Daniel Rothman, Eldad Rothman, Roy Yamner

Year founded: 2008

Funding: $12.5 million from Viola Group

31. Cortica Ltd.

Sector: computer vision technology

Founders: Igal Raichelgauz, Karina Odinaev

Year founded: 2007

Funding: $38 million from Horizon Ventures, Samsung Ventures, the Technion-Israel Institute of Technology

32. Apester Ltd.

Sector: interactive content creation

Founders: Daniel Zadok, Edi Dubinin, Moti Cohen

Year founded: 2011

Funding: $20 million from investors including Blumberg Capital, Mangrove Capital Partners and Kreos Capital

33. AutoTalks Ltd.

Sector: automotive communication chips

Founders: Onn Haran

Year founded: 2008

Funding: $80 million from investors including Mitsui Global Ventures, Magma Ventures and Gemini Israel Ventures

34. Innoviz Technologies

Sector: low-cost LiDAR

Founders: Amit Steinberg, Omer David Keilaf, Oren Buskila, Oren Rosenzweig, Zohar ZIsapel

Year founded: 2016

Funding: $82 million from investors including Samsung Catalyst, SoftBank Ventures Korea, Delphi Automotive PLC and Magna International

35. Valens Semiconductor Ltd.

Sector: automotive chips

Founders: Dror Jerushalmi, Eyran Lida, Massad Eyal

Year founded: 2006

Funding: $104 million from investors including Samsung Catalyst, Delphi Automotive PLC and Goldman Sachs

36. Sentinel Labs Inc. (also known as SentinelOne)

Sector: cybersecurity with a focus on anti-virus

Founders: Almog Cohen and Tomer Weingarten

Year founded: 2013

Funding: $109 million from investors including Redpoint, Sound Ventures, Data Collective and the Westly Group

37. Iguazio Systems Ltd.

Sector: big data management

Founders: Asaf Somekh, Orit Nissan-Messing, Yaron Haviv, Yaron Segev

Year founded: 2014

Funding: $48 million from investors including Dell Technologies Capital, Verizon Ventures, Pitango Venture Capital and Jerusalem Venture Partners

38. Behalf Ltd.

Sector: alternative financing

Founders: Benjy Feinberg, Jeremy Esekow, Shai Feinberg

Year founded: 2011

Funding: $60 million from investors including Soros Fund Management, Sequoia Capital and the Viola Group

39. Nexar Ltd.

Sector: automotive computer vision

Founders: Bruno Fernandez Ruiz, Eran Shir

Year founded: 2015

Funding: $44.5 million from investors including Alibaba Innovation Ventures, Tusk Ventures and Ibex Investors LLC

40. Kaminario Inc.

Sector: flash storage

Founders: Dani Golan, Moshe Selfin, Ofir Dubovi

Year founded: 2010

Funding: $218 million from investors including Sequoia Capital, Silicon Valley Bank and Globespan Capital Partners

41. ClickTale Ltd.

Sector: e-commerce, analytics

Founders: Arik Yavilevich and Tal Schwartz

Year founded: 2006

Funding: $55 million from Amadeus Capital Partners, Goldrock Capital, Viola Group and Kohlberg Kravis Roberts & Co.

42. Eko (formerly Interlude)

Sector: interactive multimedia video creation and distribution

Founders: Barak Feldman, Tal Zubalsky, Yoni Bloch

Year founded: 2016

Funding: $77 million from investors including Intel Capital, Sequoia Capital and MGM

43. Fundbox Inc.

Sector: data-based credit

Founders: Eyal Shinar, Tomer Michaeli, Yuval Ariav

Year founded: 2012

Funding: $108 million from investors including Bezos Expeditions, Spark Capital, Blumberg Capital and Shlomo Kramer

44. StoreDot Ltd.

Sector: quick-charging battery

Founders: Doron Myersdorf, Gil Rosenman, Simon Litsyn

Year founded: 2012

Funding: $128 million from investors including Daimler AG and Samsung Ventures

45. Cloudinary Ltd.

Sector: cloud-based media management software

Founders: Itai Lahan, Nadav Soferman, Tal Lev-Ami

Year founded: 2012

Funding: $8 million from Bessemer Venture Partners

46. Otonomo Technologies Ltd.

Sector: automotive data monetization

Founders: Avner Cohen and Ben Volkow

Year founded: 2015

Funding: $40 million from investors including Delphi Automotive PLC, Dell Technologies Capital and Bessemer Venture Partners

47. Gong.io Ltd.

Sector: conversation analytics

Founders: Amit Bendov and Eilon Reshef

Year founded: 2015

Funding: $26 million from Cisco Investments, Norwest Venture Partners and Wing Venture capital

48. Appsflyer Ltd.

Sector: mobile marketing analytics

Founders: Oren Kaniel and Reshef Mann

Year founded: 2011

Funding: $84 million from investors including Goldman Sachs, Qumra Capital and Deutsche Telekom Capital Partners

49. Dynamic Yield Ltd.

Sector: website personalization

Founders: Liad Agmon, Omri Mendellevich

Year founded: 2011

Funding: $45.5 million from investors including Baidu, Deutsche Telekom Capital Partners, Bessemer Venture Partners and Vertex Ventures

50. CTERA Networks

Sector: cloud data, software

Founders: Liran Eshel, Zohar Kaufman

Year founded: 2008

Funding: $80 million from investors including Bessemer Venture Partners, Cisco Investments, Venrock and Viola Credit