Former BP CEO Lord Browne Joins Board of Marine Data Startup Windward
Windward's investors include former CIA director David Petraeus, and former Mossad Director Tamir Pardo
Former CEO of BP PLC, Lord Browne of Madingley, has joined the board of directors of Israel-based marine data startup Windward Ltd., the company announced Tuesday. Lord Browne has been an investor in the company and a strategic advisor since 2016, Windward stated.

For daily updates, subscribe to our newsletter by clicking here.

Tel Aviv-headquartered Windward aggregates and analyzes available marine data to provide customers with insights about ship movements, transports, and risks. The company's algorithms cross reference over 300 parameters for each vessel. Its technology is used by private organizations such as insurance companies, and also by coast guards, navies, and intelligence agencies.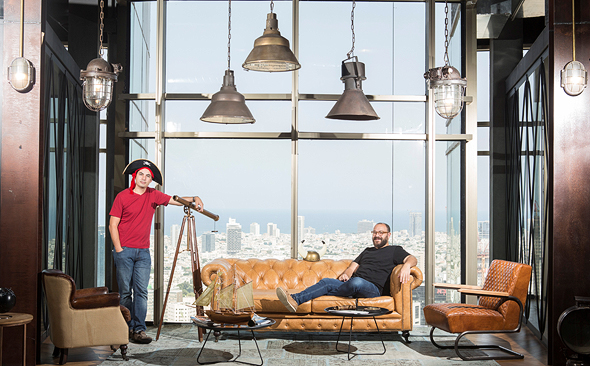 Windward founders Ami Daniel (left) and Matan Peled. Photo: Tomi Herpaz

Windward's investors include former CIA director David Petraeus, and former Thomson Reuters CEO Thomas Glocer, former Mossad Director Tamir Pardo, and Horizons Ventures, the venture capital firm of Hong Kong billionaire Li Ka-Shing. Former Israeli military chief of staff Gabi Ashkenazi is an advisor to the company.

In 2017, the Wall Street Journal used Windward's data to showcase suspicious behavior of Iran's oil exports in the face of international embargoes. More recently, in March 2018, the United States' Security Council used Windward's data in a report about illicit ship-to-ship petroleum transfers to North Korea, and illicit export of commodities from North Korea outwards, despite sanctions.

"Windward is a company I have admired for a long time," Lord Browne said in a statement, "for its vision; for the way it collaborates with organizations to solve real-world problems; and for using its technology to make the world—and the oceans—safer."