Marine Data Company Reads Geopolitical Wind Changes
Tel Aviv-based startup Windward is changing the way marine data is used
In June, a Saudi-led coalition announced a diplomatic ban on Qatar, following the latter's funding of terror organizations. The announcement led analysts at Tel-Aviv based maritime data startup Windward Ltd. to assume Iran will seize the chance to strengthen commercial ties with Qatar. Marine data told a different story. While Iran did increase its shipments to Qatar in what came across as an act of support, those shipments consisted of humanitarian aid such as fruit and vegetables and not petrol or military cargo, according to Windward's data.

Established in 2010, Tel Aviv-based Windward provides customers with insights about ship movements and transports based on the analysis of over 250 million marine-based data points per day. Its technology is used worldwide by coast guards, navies, and intelligence agencies. It has around 65 workers, 50 of them in Israel.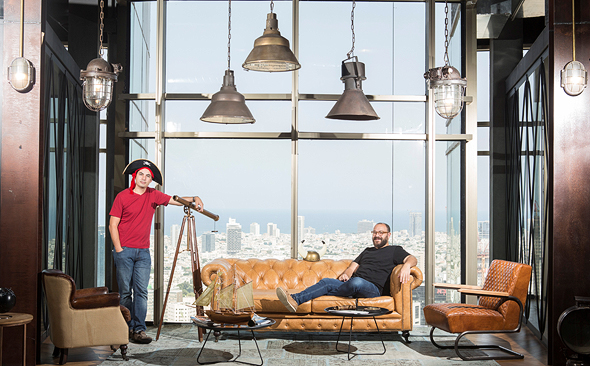 Left to right: Windward founders Ami Daniel and Matan Peled

The data also showed that international companies like the Danish shipping company A.P. Moller–Maersk Group stopped shipments to Qatar, said Nadav Libhaber, 26, an account manager and senior analyst in the company in an interview with Calcalist.

Kuwait and Oman, who remained neutral regarding the ban, came out as the big winners, said Mr. Libhaber, a former signal intelligence specialist in the Israeli navy. Following the ban ships that usually travel between Qatar and the U.A.E. started harboring in Kuwait and Oman.

Windward's database enables its analysts to identify economic and geopolitical changes, some of which are undetectable by other means. On July 6 the Wall Street Journal reported that almost a fifth of Iran's oil exports in the second half of 2016 behaved in ways that raised suspicion of an evasion of international sanctions, citing Windward's data.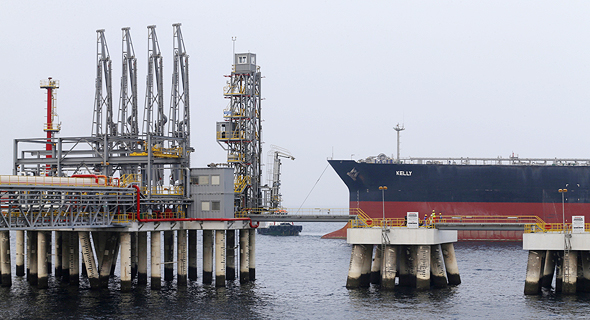 Fujairah port in the United Arab Emirates

"We looked at a fleet of ships that sailed between Fujairah port, on the eastern seaboard of the United Arab Emirates, and Iran, and discovered they went dark in various ways," Mr. Libhaber said. "They hid their entrance to the port, or turned off their radio-signal tracking systems, or reported a false destination."

A tracking system used to track ships at sea through satellite signals, the Automatic Identification System (AIS), is meant to complement marine radar. All passenger ships or voyager ships with 300 gross tonnages or more are required to install AIS. While ships are legally required to transmit from both sea and port, they can turn their transmitters off for limited time periods.

"We have an algorithm that can identify those kinds of subterfuge attempts, and we identified 15-20 ships that did so for a long time," Mr. Libhaber explained. Windward just provides an analysis based on the data; the company leaves the interpretation to its clients, he added.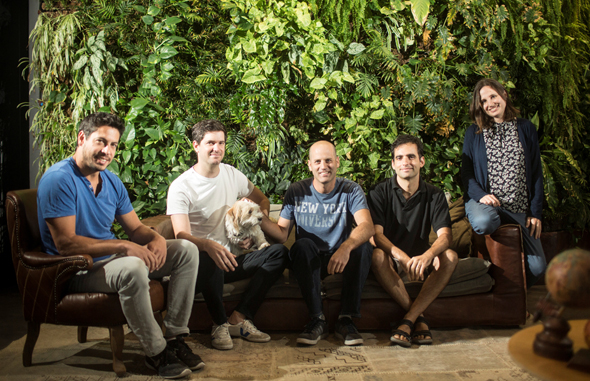 Left to right: Tomer Benyamini, Ohad Barkai, Ido Sovran, Yair Mazor, Yonit Hoffman

According to the International Chamber of Shipping, the world's principal shipping organization, around 90% of all global commerce is transported via sea, with over 50 thousand merchant ships carrying goods between countries.

According to Windward, the industry has a global market size of $2 trillion a year, and the shipping insurance market is estimated at $30 billion.

The company raised around $22.5 million in total equity funding to date. In 2015, it raised a Series A funding round led by Horizons Ventures, the venture capital firm of Hong Kong billionaire Li Ka-shing. Other investors include former CIA Director David Petraeus and former Mossad Director Tamir Pardo. Former Israeli chief of staff Gabi Ashkenazi is an advisor.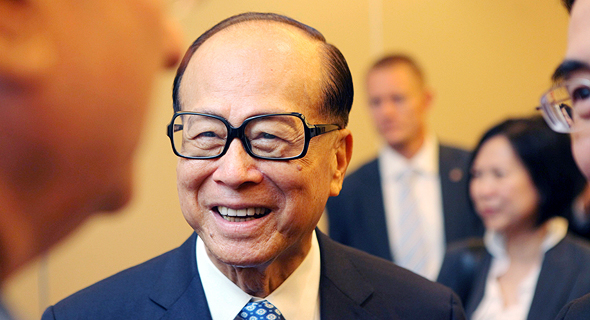 Hong Kong billionaire Li Ka-shing

The company's algorithms cross reference around 300 parameters for every vessel. Put together, the data can reveal what a ship is carrying, "dark" transports, and unusual shipping routes. Winward's customers, mainly security and customs agencies, pay for access to the database. According to the company, the number of its government clients should double itself in 2017.

"We can provide the life story of every ship for the past five years," said Ohad Barkai, product manager at Windward. Pointing to a ship on the screen, he explained that a few days ago the company's algorithms identified a 440 feet (134 meters) tanker changing its identity—it left Malta under one name, entered Spain under a different name, and resumed its original name in Holland.

"We analyze ship behavior patterns and are in the process of building a smart system that will be able to automatically identify dangerous ships," said senior data scientist at Windward Yair Mazor. The company uses machine learning tools to analyze the size of the ship and its engagements, for example by tracking sea stops. The system can also identify deviations from the ship's routine route.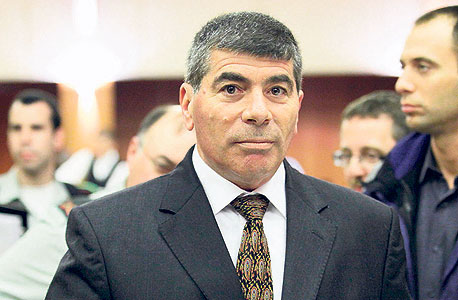 Former Israeli chief of staff Gabi Ashkenazi

Pointing to a ship on the screen, Mr. Mazor said that the ship was caught with 18 ton of hashish. "We were the first to identify it," he said.

Windward has recently started to approach insurance companies. While insurance companies look at certain parameters, making a risk assessment based on previous knowledge of the ships or their owners, Windward can offer behavioral analysis, said Tomer Benyamini, research and development team leader at Windward.

Mr. Benyamini gives an example of a ship that was very active near Japan in 2014, but after changing ownership in 2016 began traveling around Singapore and Malaysia. Windward's analysis showed that the ship was faster in 2014 than in 2016; from a cargo carrier, it turned into a refueler ship, making it less risky to insure.

When asked how much this sort of data is worth, Mr. Benyamini said that the cost of insuring a ship today is $50 thousand a year, and the insurance companies' profit margins are only 2%. Windward can help insurers improve the ratio between the insurance claims and the insurance premiums by more than 100% in favor of the insurance companies, he said.

Windward does not reveal its revenues.