Tel Aviv Event Highlights Oncoming Disruption of Food Industry
On Monday night, Israeli food enthusiasts gathered to talk about the meeting points of food and tech
The global food industry is going through a period of disruption, and only the companies who successfully adapt will survive, Ran Gavriel Zivan, head of digital investments and internal innovation at Bank Leumi, said Monday at a Food and Tech conference in Israel. The conference was hosted by Calcalist and by Israel's Bank Leumi at Labs TLV, a co-working and events space in central Tel Aviv.

For daily updates, subscribe to our newsletter by clicking here.

The robotic "takeover" of every facet of the food industry, from field to kitchen, is one of the signifiers of the food tech revolution, Mr. Zivan said. On the other hand, consumer insights are leading food innovators to come up with technological solutions to the problem of food waste, he said.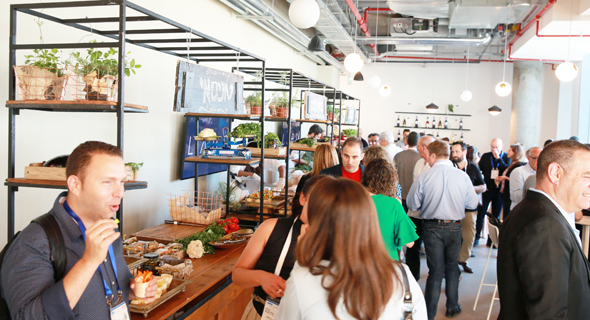 Calcalist's Food and Technology conference. Photo: Orel Cohen

Mr. Zivan went on to describe the contemporary food industry as a jungle, where different animals represent companies with unique approaches to technological disruption. According to this analogy, the elephant represents the traditional players stubbornly resisting change; the shark represents companies like Amazon, Facebook, Apple, and Google, whose technology determines consumer behavior; the bee represents the startups working to change every small facet of the industry; and the octopus represents established companies constantly searching for new business models.

Artist and designer Iftach Gazit, who spoke at Monday's conference, presented a literal interpretation of the confluence of tech and food. He designed a water-resistant pre-made food packet that could be thrown in the washing machine with the laundry and cook—in a method of cooking in water called sous vide—along with the washing cycle.

26-year-old chef Raz Rahav, who leans on technology and molecular cooking methods in his Tel Aviv fine dining restaurant and sandwich shop, spoke about the evolution of the use of advanced technology in the professional kitchen. Haute cooking has matured in recent years, he said Monday, from using technology for the sake of innovation to using technology to achieve the ideal flavor. "Technique used to be the goal and the taste was a secondary component, and now taste is the goal and technique is the means," he said.

Karni Lotan Marcus, a lecturer and researcher at the School of Sustainability, at Israeli research college IDC Herzliya, talked about sustainability and technology in the food industry. Ms. Lotan Marcus said we are in the midst of an agricultural and technological revolution that will ultimately change the humanity's attitudes to nature and natural food production. We used to believe our role was to overpower nature, she said, those who will adapt to more natural food production processes will have the upper hand moving forward.

Hagai Stadler, CEO of Israeli biotech company Algatechnologies Ltd., known as Algatech, said on Monday that he believed algae is the solution to the problem of food scarcity and food insecurity. Based in Ketura, a kibbutz in southern Israel, Algatech cultivates microalgae which are used as a nutritional additive and in the cosmetics industry. "Algae enabled the creation of life on Earth, and algae will be the nutritional source to sustain life. Algae could provide all of humanity's nutritional needs, and contain all necessary proteins, omega acids, fibers, and more," Mr. Stadler said.

Shir Halpern is a food entrepreneur and the owner of Tel Aviv's Farmers Market. Speaking at the conference on Monday, she said that while many startups and entrepreneurs are attempting to harness technology to answer to the global problem of food waste, technology alone would not suffice to eliminate food waste. "Without understanding consumers and food culture we will not be able to change behaviors and reduce the amount of food wasted," she said.