Former Facebook Executive Joins Autonomous Drones Company Airobotics
Richard Wooldridge, the former chief operating officer of Facebook's hardware division Building 8, was appointed as chief operating officer at Airobotics
Former Facebook executive Richard Wooldridge joined Israel-based drone maker Airobotics Ltd. as chief operating officer, the company announced Tuesday. Mr. Wooldridge is the former chief operating officer of Facebook's hardware research division Building 8, and the former chief operating officer of Google ATAP (advanced technology and products group).

For daily updates, subscribe to our newsletter by clicking here.

Mr. Wooldridge has been an investor and a member of Airobotics' board of directors for several years.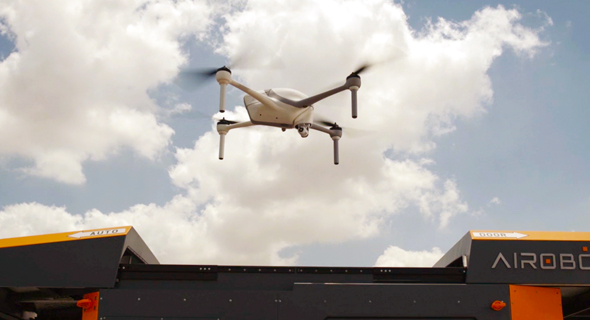 An Airobotics drone. Photo: Airobotics Ltd.

Airobotics designs and manufactures fully automated drones used for industrial purposes such as surveying, and for security in industrial facilities, mining sites, and refineries. The drones, which can be equipped with various sensors and cameras, automatically return to their docking station to recharge after flight. Founded in 2014 and headquartered in Petah Tikva, a city in central Israel, the company has additional facilities in Australia, the U.S., and Chile.

Airobotics raised $71 million to date from investors including Microsoft Ventures, BlueRun Ventures China Co. Ltd., and Waze CEO Noam Bardin.

"We've begun to expand to new countries around the world and we're continually working with new companies in various industrial fields. Richard is one of the world's experts in scaling-up global business and his expertise will be vital as we enter our next phase of expansion," Ran Krauss, CEO and Co-Founder of Airobotics, in a statement.