Hainan Airlines to Launch Route between Tel Aviv and Guangzhou
The company already offers Israel-Beijing and Israel-Shanghai flights several times a week
Hainan Airlines Holding Co Ltd. will be opening its planned Tel Aviv-Guangzhou route in August, the company announced Thursday. The company will receive a grant of around 750,000 euro ($914,000) from as part of an incentive program run by the Israeli Ministry of Tourism.

For daily updates, subscribe to our newsletter by clicking here.

The new route will offer three weekly flights on Tuesday, Thursday, and Saturday. Aircrafts from Tel Aviv will leave at 1:00 p.m. and land in China at 5:00 a.m. Flights from China to Israel will leave on 3:30 a.m. and land at 9:00 a.m.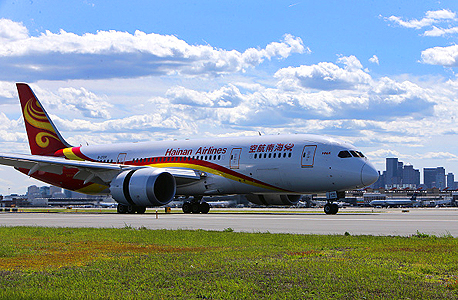 A Hainan Airlines aircraft. Photo: Getty Images

Hainan is the fourth largest airline company in China. The company operates 400 aircrafts and 1,800 routes. The company belongs to Chinese conglomerate HNA Group Co.

Hainan already operates four weekly flights on its Tel Aviv-Beijing route, which opened in 2016, and three weekly flights connecting Tel Aviv and Shanghai, a route launched in September 2017. Cathay Pacific also offers several weekly flights between Tel Aviv and Hong Kong.

Tourism and business visits from China are on the rise. The country saw 105,000 Chinese tourists arrive in 2017, a 46% increase from 2016 and a 139% increase from 2015. Earlier this month, Hainan canceled three flights to Israel after the European air traffic control issued a warning for the eastern Mediterranean regarding possible U.S. airstrikes within Syrian airspace.