As Commercial Ties Warm, Carriers Beef-Up China-Israel Lines
Cathay Pacific and Hainan Airlines both recently announced an expansion of their flight services to Israel
Chinese tourism to Israel showed record growth of 154% between 2015 and 2017. Over 71 thousand Chinese nationals visited Israel between January and August this year compared to 70 thousand throughout 2016, according to data by the Israeli Ministry of Tourism. The trend is expected to continue: earlier this month Israel's Minister of Tourism Yariv Levin said he believes over 100 thousands Chinese nationals will visit Israel this year.

On September 12, Hainan Airlines Holding Co Ltd. officially opened its non-stop Shanghai-Tel Aviv service offering Boeing 787-9 flights on Tuesdays, Thursdays and Sundays. The company's existing service between Tel Aviv and Beijing, opened last year, now offers five weekly flights instead of four.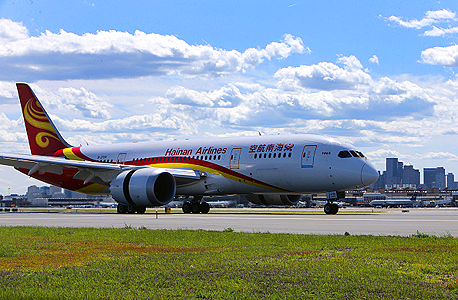 A Hainan Airlines airplane

On Thursday Hong Kong-based Cathay Pacific announced it will increase its four-times-weekly-operation, launched in March this year, to six times a week as of March 2018. The airline's director of commercial and cargo Ronald Lam said that customer demand is behind the airline's decision to increase the route's frequency.

Almost a quarter of visiting Chinese nationals in 2016 arrived in Israel for business purposes, a 60% increase from the number of business-oriented visitors in 2015 according to data by Israel's Ministry of Tourism.

A prolonged governmental effort to bolster economic ties between China and Israel led in recent years to an unprecedented levels of dealmaking, with Chinese companies participating in and winning infrastructural tenders in Israel and buying local companies.

In March Prime Minister Benjamin Netanyahu visited China and met the Chinese President Xi Jinping; over 20 governmental agreements spanning about $2 billion were signed between China and Israel during the visit.

The same month the Israeli government's technology and innovation investment arm launched an initiative with the Changzhou West Taihu Lake Science and Technology Industrial Park in the Chinese Jiangsu Province. The initiative offers Israeli companies the opportunity to establish headquarters in the park and receive financial grants and incentives, legal and regulatory assistance and discounted access to facilities like office and manufacturing spaces, laboratories and workshops.

Israeli government is still pushing for a free trade agreement to be signed with China. Such an agreement is in the works since Mr. Netanyahu's March 2016 visit to China, and was the main goal of his 2017 visit.

Attempts made by China-based corporations to buy local financial companies in Israel have faltered so far due to opposition coming from Israeli regulators, but more and more Chinese companies are trying to tap into Israel's technology sector. Companies like Baidu, Alibaba and Tencent invest in Israeli startups, the first two partnering with Israel-based venture capital funds to identify relevant startups and technologies.

In 2013 Fosun Pharma, the pharmaceutical unit of the Fosun Group, bought Israel-based Alma Lasers Ltd. for $240 million, renaming it Sisram Medical Ltd. Fuson floated Sisram at the Hong Kong Stock Exchange in August.

In August this year Hong Kong-registered holding company Tacoma Technology Ltd. partnered with Israel-based chipmaker Tower Semiconductor Ltd. to build chip fabrication plants in Nanjing, China.

China-based HNA Group Co Ltd., the parent company of Hainan Airlines, sent a delegation of senior executives to Israel in April this year looking for local partnerships and acquisitions.

According to a May Reuters report increased regulatory supervision is making some Chinese companies turn away from the American market and look to the much smaller Israeli market for technology investments. Reuters cited Thomson Reuters data showing that in 2016 Chinese investment in Israel amounted to $16.5 billion, a 10 folds increase from 2015; Most of the investments were in cyber and medtech startups. Chinese investors cancelled $26.3 billion worth of investments in American assets the same year, Reuters said.

In the same article, Reuters quoted Li Dongsheng, the chairman of global electronics Corporation TCL, as saying that he is scouting in Israel instead of in the U.S., where a potential acquisition was frozen following the appointment of President Donald Trump. TCL was interested in tech companies focusing on smart manufacturing, new materials, big data and internet applications, said Reuters.