Following Warning of Air Strikes in Syria, Hainan Airlines Cancels Tel Aviv Flights
On Tuesday, the European air traffic control issued a 72-hour warning for possible U.S. military action in Syria's airspace
On Wednesday, Hainan Airlines Holding Co Ltd. canceled two flights from Beijing and Shanghai to Israel that were due to arrive in Ben Gurion Airport on Thursday, as well as a Thursday flight from Tel Aviv to Shanghai. The cancellation followed a warning issued Tuesday by the European air traffic control for the eastern Mediterranean, regarding possible U.S. airstrikes in Syria within the next 72 hours.
For daily updates, subscribe to our newsletter by clicking here.
U.S. President Donald Trump has been discussing the possibility of a coalition attack in Syria for the last few days, in retaliation to an attack on Syrian civilians last week in Douma that is suspected to be a chemical weapons attack.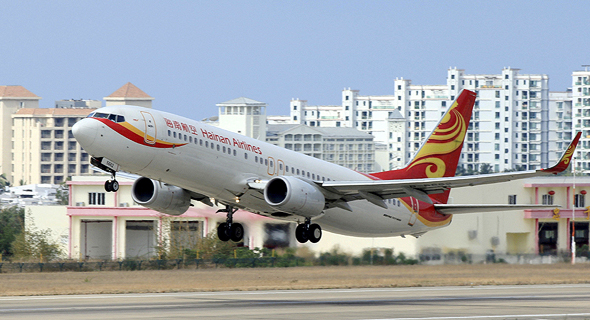 A Hainan Airlines plane. Photo: Reuters

Lebanon's Middle East Airlines and Air France rerouted some of their flights in the area as a result of the warning, Reuters reported Wednesday.

A Hainan flight from Beijing is scheduled to land in Tel Aviv Friday morning, and it is scheduled to arrive as planned.

Hainan opened its Tel Aviv-Beijing service in 2016 and increased its frequency in September, when it officially opened its non-stop Shanghai-Tel Aviv service. Hong Kong-based Cathay Pacific also increased its flights to Israel in early 2018. Chinese tourism to Israel grew over 150% between 2015 and 2017, with over 100,000 Chinese nationals visiting Israel last year.

This is not the first time the tempestuous situation in the area affected international business. In December, Calcalist reported that Mr. Trump's announcement regarding the relocation of the U.S. embassy to Jerusalem, which lit up a protest in the country, led business delegations from China and Japan to cancel or postpone their planned visits to early 2018. Tal Chen, a partner at Deloitte Israel, told Calcalist at the time that the cancellations had been due to safety concerns.