Muscle Meter for Cyclists Startup Watteam Raises $5 Million
Watteam develops an add-on device and mobile app capable of measuring the actual amount of force a cyclist is using, to help enhance performance and prevent injuries
Watteam Ltd., a startup developing and marketing a muscle meter for cyclists, has raised $5 million from Israeli-born businessman Eyal Shahar, the company announced Sunday.

For daily updates, subscribe to our newsletter by clicking here.

Founded in 2011 by three Israeli cyclists and headquartered in Irvine, California, Watteam develops Powerbeat, an add-on device and mobile app capable of measuring the actual amount of force a cyclist is using, with the aim of enhancing performance and preventing injuries. The company employs 35 people in its California headquarters and its Israel research and development center in Manof, a village in the country's north.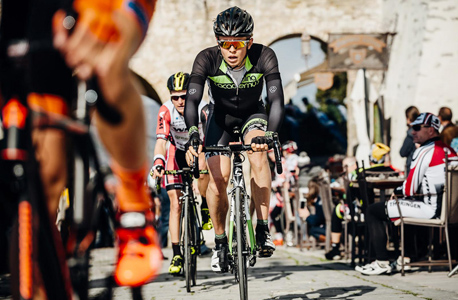 Cyclists (illustration). Photo: Cycling Academy
Unlike traditional professional power meters priced at thousands of dollars, with a 260$-400$ price tag, Watteam's device is aimed at amateur and semi-pro cyclists. "Monitoring devices have always been used by professional cyclists, but we began seeing a growing demand for similar products by amateur cyclists, Ironman competitors, etc.," Ofir Gal-On, co-founder and CEO of Watteam and former coach of Israel's national mountain bike team, said in a phone interview with Calcalist on Sunday.
Watteam has sold 2,000 units since the official launch of its product in September, the company said in a statement.
Watteam is currently negotiating collaborations with several bicycle manufacturers, according to the statement. Watteam's technology can help bike makers gain valuable big data and insights on the people using their product, and help them retain a connection with their clients, Mr. Gal-On said.
Mr. Shahar, a former diamond importer, is the founder and president of the Online Trading Academy (OTA), a California headquartered company offering training and education for investment and trading professionals.