Bolstered by Indian Deals, Israeli Arms Export Up 40% in 2017
Israel has a major advantage among global arms exporters as it can often market its arms as "battle-tested"
The export of Israeli arms reached $9.2 billion in 2017, up 41.5% from 2016, according to data released by the Israeli ministry of defense Wednesday. The dramatic increase was buttressed by $2 billion-worth of missile system deals signed between state-owned Israel Aerospace Industries (IAI) and India.

For daily updates, subscribe to our newsletter by clicking here.

Israel is among the top ten countries exporting arms, with the U.S. and Russia holding first and second place, respectively. Weapon sales are on the rise globally since the early 2000, and Israel has a major advantage as it can often market its exports as "battle-tested" due to its continuing conflict with the Palestinians.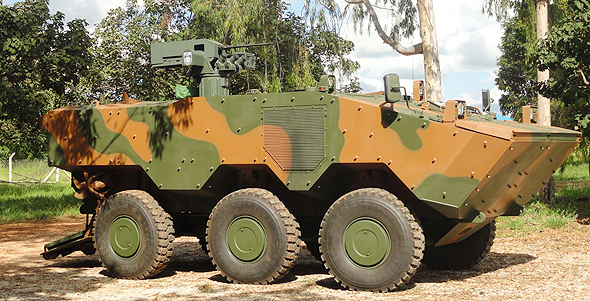 Autonomous Vehicle by Elbit Systems. Photo: Elbit Systems

The rise in worldwide weapon sales is reflected in Israeli export; in 2016 Israel exports netted $6.5 billion, and in 2015 $5.7 billion.

Europe accounts for 21% of Israel's export in 2017, and North America for 14%, according to ministry data, while Israel's major clients, 58%, are in Asia and the Pacific. According to the Stockholm International Peace Research Institute's arms transfer report for 2017, published in March, India accounted for 49% of Israel's arms export in 2013-2017, making Israel the third largest supplier to India.

In 2017 alone, India accounted for almost a third of Israel's arms export, the ministry's head of the export division Michel Ben-Baruch told reporters, adding that most professional partnerships develop over a long period of time.

In January, Israeli Prime Minister Benjamin Netanyahu made a state visit to India, reciprocating a visit Indian Prime Minister Narendra Modi made to Israel in July. No Indian prime minister visited Israel since India's independence, while Mr. Netanyahu's visit was the first Israeli state visit to India in 15 years. Messrs. Modi and Netanyahu signed multiple collaboration pacts, including agreements regarding cybersecurity, energy, films, and air transportation, signaling the partnership between the two countries could expand beyond their major arms collaboration.

Netanyahu's visit came shortly after the Indian Defense Ministry announced the cancellation of a $500 million deal signed in 2016 to purchase anti-tank guided missiles from Israeli state-owned defense contractor Rafael Advanced Defense Systems Ltd. Efforts to reinstate the deal were part of January's discussions.

More and more countries want to relocate industry, manufacturing and knowledge to their own territories, Mr. Ben-Baruch said, meaning an increase in Israeli collaboration. Furthermore, he explained, more countries nowadays want to export to countries Israel does not trade with directly, and that has advantages for Israel as long as its vetted by the ministry.

The market share of each Israeli arms company wasn't disclosed, but the ministry disclosed most of the export is divided between the industry's four largest defenses manufacturers: IAI, Rafael, IMI Systems, and Elbit Systems Ltd.