Black Cube Sought Damaging Intel on Former Obama Officials, Report Says
A report in the New Yorker names Black Cube as the Israeli intelligence firm hired to discredit former White House staffers involved in the 2015 Iran nuclear deal
Israeli private intelligence firm Black Cube targeted Obama administration staffers who were involved in promoting the 2015 Iran nuclear deal, New Yorker magazine reported on Sunday.

For daily updates, subscribe to our newsletter by clicking here.

Employees of Black Cube, which offers the expertise of "Israel's elite military and governmental intelligence units," worked undercover to spy on the former officials, seeking information that could discredit them.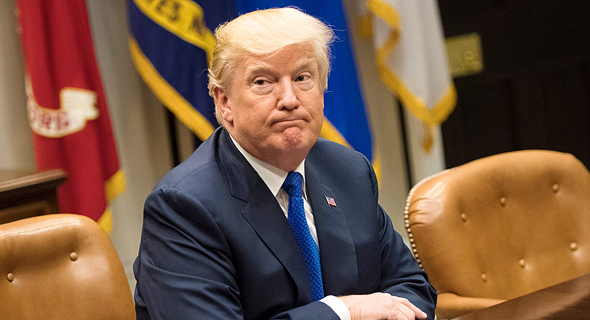 U.S. President Donald Trump. Photo: Getty

The news story comes a day after British newspaper the Observer reported that aides to U.S. President Donald Trump hired an unnamed Israeli spy firm last year to "get dirt" on Ben Rhodes and Colin Kahl, both former foreign-policy advisers to President Barack Obama.

The central difference between the two reports hinges on the question of who was behind the campaign against the Obama administration officials. The New Yorker reported that the client came from the private sector, rather than from within Trump's White House.

In a statement to Calcalist, Black Cube said it "has no connection to the Trump administration, its representatives, affiliated business executives, nor to the Iran nuclear deal."

The company's statement fell short of denying involvement in the campaign targeting the Obama officials.

"Black Cube neither confirms nor denies details on its operations," Black Cube said in response to further questions.

Mr. Kahl took to Twitter Sunday night to accuse Black Cube of spying on him. "They went after me by targeting my wife and attempting to collect derogatory evidence with the goal of arming *someone* with info to discredit proponents of the Iran deal," he wrote. He also said that the spying overlapped with a sudden burst of negative coverage in the conservative media.

"Some senior aides to the President were obsessed with Ben and me, and were seeking to smear us, around the same time the Israeli firm was tasked by someone to dig up dirt on us and our families," Mr. Kahl tweeted.

According to the New Yorker, Black Cube employees contacted the wives of Mr. Kahl and Mr. Rhodes by email last year using fake identities and elaborate backstories. The ploy did not work on either woman.

The magazine also obtained documents showing that Black Cube compiled information on Rhodes, Mr. Khal, and other individuals, that included addresses, details on their family members, and the makes of their personal cars. The goal of the campaign was to find compromising information on the foreign policy advisers including evidence to substantiate allegations of links to Iran lobbyists.

The report comes less than a year after the New Yorker revealed that Black Cube had used similar tactics in an operation run on behalf of disgraced Hollywood producer Harvey Weinstein. The firm's employees used fake identities to track women with allegations that Mr. Weinstein had engaged in sexual misconduct

The private intelligence firm, which has recently moved into an upscale headquarters in Tel Aviv, has repeatedly made headlines since the Weinstein revelations. In March, Cambridge Analytica whistleblower, testifying in front of British lawmakers, said that Black Cube had been involved in hacking a Nigerian presidential candidate. Both firms denied the allegation, and shortly afterward, a former Cambridge Analytica employee said that a different firm, not Black Cube, was hired for the work in Nigeria.

Calcalist's reporting on the firm has revealed details on Black Cube's secret recording of a former Canadian judge as well as a separate incident in which the firm recorded a business executive while he was out riding a bicycle.

Black Cube has close ties to Israel intelligence, culling its employs from agencies like the Mossad. Meir Dagan, the late former Mossad director, is described on the firm's website as its honorary president. Former Israeli Prime Minister Ehud Barak acknowledged in a public statement that he had introduced Mr. Weinstein to the company.