Breaking
Ethemba Capital Nears Sale of Fabrics Company Avgol at a $440 Million Valuation
Israel-based Avgol manufactures nonwoven fabrics for diapers and feminine hygiene products
Update: Bangkok-headquartered Indorama Ventures Public Company Ltd. is the potential buyer of Avgol, one person familiar with the matter told Calcalist on condition of anonymity.
Earlier today, both Bank Leumi and HFH International B.V., a Dutch company controlled by Ethemba Capital, confirmed negotiations for the sale of Avgol, but did not disclose further details.
Indorama Ventures is a petrochemical producer and a manufacturer of wool yarns. Founded in 1994 by Indian businessman Aloke Lohia and employing over 15,000 people, Indorama reported revenues of $8.43 billion and EBITDA of around $1 billion for 2017. The company is listed on the Bangkok Stock Exchange.
Indorama has been approached for comment but has yet to respond.
Update: Avgol is up by as much as 10.65% on the Tel Aviv Stock Exchange.
For daily updates, subscribe to our newsletter by clicking here.
London-based private equity firm Ethemba Capital Ltd. is finalizing a deal to sell Israel-based hygienic fabric company Avgol Ltd. at a company valuation of $440 million (NIS 1.6 billion), according to one person familiar with the matter. Leumi Partners, Another stakeholder at the company, the investment arm of Israel-based Bank Leumi, also intends to sell its holdings as part of the deal.
Following the report by Calcalist, Bank Leumi filed a statement with the Tel Aviv Stock Exchange, confirming it is negotiating the sale of its stake.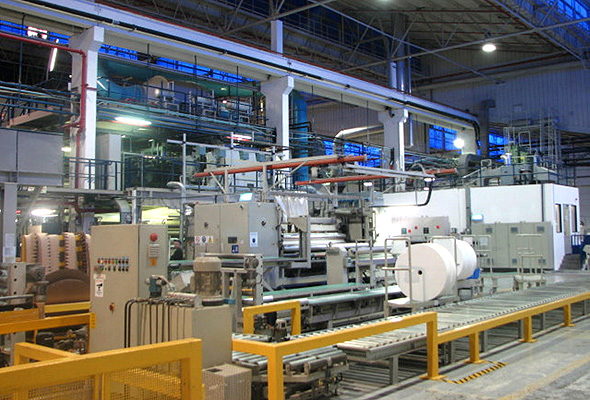 Avgol factory. Photo: PR
Ethemba Capital holds a 50.8% stake in Avgol. In 2012, the equity firm paid $107 million for a 45% stake in the company. Leumi Partners has a 15% stake in the company.
Avgol has been manufacturing nonwoven fabrics for diapers and feminine hygiene products since 1988. The company has 18 global manufacturing plants, including in North Carolina, Russia, and China. In July 2017, the company sold one of its Israeli factories for $15 million, following a decision to relocate the company's manufacturing to southern Israeli town Dimona, at the cost of $60 million. Earlier this year the company started manufacturing in India.
Listed on the Tel Aviv Stock Exchange since 2007, Avgol's stock fell 13% since the beginning of the year, after a 3.4% drop in 2017. Avgol also has three bond series, one of which is set to mature at the end of 2018.
Other Israeli companies operating in the industry include Albaad Massuot Yitzhak Ltd. Shalag Industries Ltd., and Spuntech Industries Inc.