Plant Breeding Startup Rootility Raises $10 Million
The Israel-based company develops root-focused plant breeding methods that increase crop yields, and improve plant tolerances to heat, cold, and soil borne diseases
Israeli agricultural technology company Rootility Ltd. announced Tuesday it completed a $10 million series C funding round led by U.K.-based ADM Capital's Cibus Fund.

For daily updates, subscribe to our newsletter by clicking here.

Rootility develops root-focused plant breeding methods that increase crop yields, and improve plant tolerances to heat, cold, and soil borne diseases. It collaborates with seed companies and food processors including California-based industrial tomato grower Morning Star Co.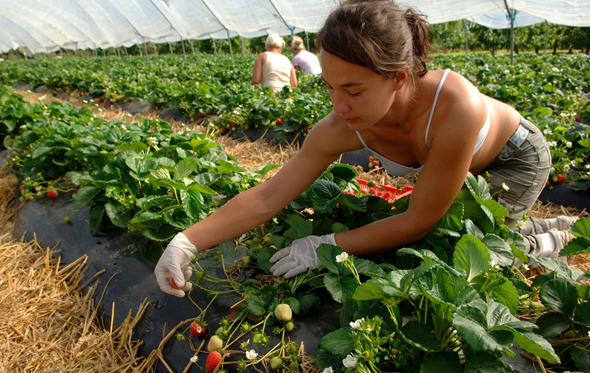 A strawberry farm (illustration). Photo: David Wootton/Alamy

Existing investors including Israeli agriculture and foodtech fund GreenSoil Investments, and Middleland Capital, a U.S. agricultural tech venture capital firm, also participated in the funding.

According to Gideon Soesman, Rootility's co-founder and managing partner, the company's technology can increase yields by 50%-70%. Mr. Soesman was interviewed by Calcalist on Tuesday on the sidelines of the Agrivest Israeli agtech conference held in Tel Aviv. "If you take care of the root system, making sure it is more resilient to temperature and humidity, than you get a stronger plant with greater yield," he said.

Senior investment director at ADM Capital Alastair Cooper will join Rootility's board of directors.

"Over the last several years we have been able to revolutionize rootstock breeding in several crops including industrial and open field fresh tomatoes," Rafael Meissner, founder and CEO of Rootility, said in a statement.

In a statement, Rootility said that the new investment will enable it to expand international sales and develop new rootstock breeding solutions for a wider variety of crops.