Opinion
Things to Consider When 'Growing' an Israeli Startup in the U.S.
With more than 470 ag-tech startups, Israel's agricultural expertise and the country's vibrant startup scene is bearing fruit, but there are common mistakes local ag-tech entrepreneurs make when trying to grow their presence in the U.S.
The combination of Israel's agricultural expertise and the country's vibrant startup scene is bearing fruit. The Israeli ag-tech scene boasts more than 470 startups, according to a database maintained by Start-Up Nation Central, a nonprofit organization that connects international businesses with Israeli startups. Additionally, Israeli ag-tech companies are gaining more and more attention from global investors.
For daily updates, subscribe to our newsletter by clicking here.
However, driving global growth and building a successful U.S. team presents its own mix of challenges for Israeli entrepreneurs. What works in Israel does not always work elsewhere.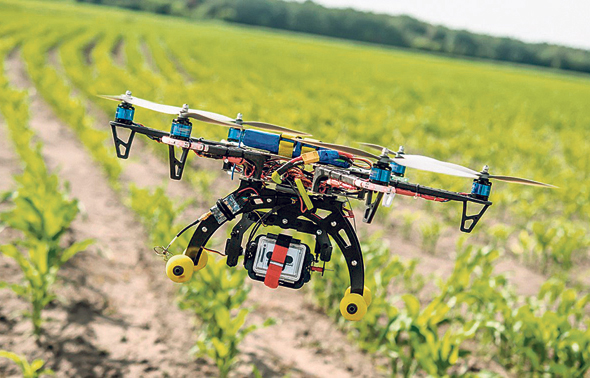 AgTech (illustration). Photo: PwC
Here are the most common mistakes Israeli entrepreneurs make when trying to grow their presence in the U.S., and the best ways Israel's burgeoning pool of ag-tech entrepreneurs can bridge the cultural divide:
1. Locking into the local market
Many Israeli-founded companies make the mistake of starting their sales efforts in Israel. Often, they get stuck. Starting in Israel and then trying to transition elsewhere is not an effective sales strategy if the goal is to become a global player.
While it may be harder to begin sales efforts abroad, startups need to look at their long-term target market and start where they need an ongoing stronghold. For ag-tech companies, the prime market is rarely Israel. These companies need to look to other agricultural epicenters like the U.S., Australia, and Ireland to name a few. Companies that focus early sales efforts within their top sales market from the very beginning will have a stronger sales organization and pipeline.
2. Using the same investor pitch
In addition to a smart sales strategy, partnering with the best investors to help achieve the company's vision is essential. Those investors typically aren't all based in Israel, especially when courting top ag-tech investor teams. However, many startups take a one-size-fits-all approach to the investor pitch. That simply won't work when courting top Israeli and U.S. investors.
A basic pitch with proven market reach and technology innovation might win over an Israeli investor, but U.S. investors are looking for technology innovators who are changing the world. Luckily, changing the world by saving water, improving crop production, reducing pesticide usage, and protecting the food chain is something ag-tech players have on their side. Entrepreneurs need to add in their bigger vision and demonstrate a path to becoming a huge company before reaching beyond the Israeli investment community.
3. Ignoring the Need to Establish Credibility
Many Israeli entrepreneurs also rely too much on prestigious military backgrounds for international credibility. Unfortunately, while being a pilot or part of an elite IDF unit might carry a lot of weight in local circles, that credibility does not translate abroad. In the U.S., an entrepreneur's IDF experiences are often insignificant. And to a farmer or agriculture industry veteran, it is meaningless.
When pitching investors and partners abroad, Israeli ag-tech entrepreneurs need to prove themselves from scratch. It is critical to demonstrate private-sector success and expertise beyond the military.
4. Allowing Culture Clashes
Failing to take the cultural differences into account from the beginning can create enormous problems as the company grows. For instance, allowing two different corporate cultures to take root early on will lead to completely disparate business units that can't effectively work together. Product managers working with U.S. sales teams and Israeli R&D teams cannot bridge that gap on their own.
Startups should not allow two different corporate cultures at the start. A small company needs to have one cohesive corporate culture. An important part of that unified culture should be the communication style—the direct approach taken in Israeli work environments can be a sharp contrast to more international style of work. Successful ag-tech startups must find the right balance. As the company grows, however, the organization can start to embrace and nurture regional differences.
5. Underestimating the Importance of the First U.S. Hire
An important part of overcoming the potential culture clash is the lead team member in the U.S. Many entrepreneurs don't understand the role that first hire plays in the company's immediate and long-term success.
It can be more difficult to attract and spot talent abroad. The first hire in the U.S. sets the tone for the U.S. office and ongoing recruiting efforts. Israeli entrepreneurs need the first U.S. hire to share their work ethics and style as they will be the partner entrusted with leading the U.S. team and recruiting top talent on their behalf. This is especially critical in ag-tech, where there is already an undercurrent of distrust for new technology claims. The U.S. lead should also have a farming or agricultural background.
Beyond the five most common missteps, there are a host of other considerations Israeli ag-tech entrepreneurs need to keep in mind when building their startup. From the East Coast vs. West Coast debate—I'd advocate for the East Coast whenever possible, to the challenges of establishing leadership remotely, to the question of relocation. The constant barrage of tough choices can seem overwhelming.
Inevitably, as the company grows, its center of gravity will go West. However, that does not mean that every Israeli entrepreneur needs to be prepared to move his or her management team or the entire company with it. Israel has become an ag-tech innovation hub and is quickly becoming a business epicenter.
Tomer Tzach is the CEO of AgTech startup CropX. He is a four-time CEO and former investor with a successful track record in Israel.