Bangkok Bank Partners with Israeli Equity Crowdfunding Company OurCrowd
In 2015, OurCrowd started expanding to Asia, inking partnerships with financial institutes including in India, China, Hong Kong, and Singapore
Israel-based Equity crowdfunding company OurCrowd Ltd. is partnering with Bangkok Bank Public Company Ltd., Thailand's largest bank, OurCrowd announced Wednesday. Through the partnership, the two sides hope to connect OurCrowd's portfolio companies with interested investors and customers working with the bank, OurCrowd CEO Jon Medved said in a Wednesday interview with Calcalist.

For daily updates, subscribe to our newsletter by clicking here.

With a dominant presence in Thailand, and overseas presence in Southeast Asia including China, Bangkok Bank has around 17 million customer accounts and total assets of $102 billion.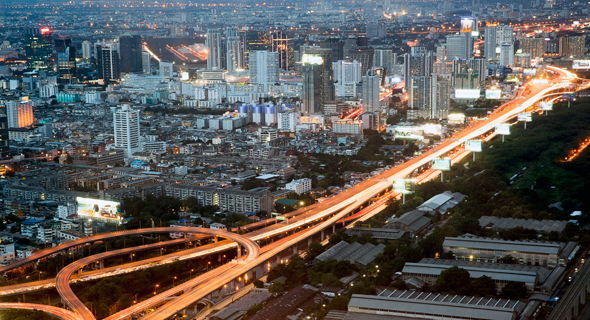 Bangkok. Photo: Bloomberg

Jerusalem-based OurCrowd offers accredited investors a way to participate in investments in pre-vetted startups. Of the firm's 150 current portfolio companies, around 70% are Israel-based, but the firm has steadily been increasing its global reach since it was founded in 2013, and has to date raised over $700 million from almost 25,000 investors in over 150 countries, according to its statements.

In 2015, OurCrowd started expanding to Asia, inking partnerships with financial institutes including Mumbai-based wealth management company Reliance Private Client; Hong Kong-based CITIC Pacific, a subsidiary of Beijing-headquartered, state-backed CITIC Group Corporation Ltd.; Singapore's United Overseas Bank Ltd.; and China's Shanghai Commercial Savings Bank.

"We're committed to Southeast Asia," OurCrowd CEO Jonathan Medved said in a Wednesday interview with Calcalist. "We think that over time, that whole region is going to be one of the biggest economic targets in the world."

When Israeli companies consider an expansion to Asia, they look only to China and Japan but other markets are also looking to tap innovative technologies, Mr. Medved said. He sees great potential for Israeli companies in the domains of agricultural technologies, fintech, and manufacturing technologies in the Thai market.

According to the World Bank's World Integrated Trade Solution, Israeli exports to Thailand amounted to $409 million in 2016, consisting of mostly stone and glass products and intermediate goods. Machinery and electronics account for 17% of exports.

"This is a long-term partnership," Mr. Medved concluded. "It's not necessarily about the next year, it's about building strong ties between our two countries, based on innovation. It's a business for decades."

The partnership will also help OurCrowd locate promising Thai startups to add to its portfolio, Mr. Medved said.