Spacecom Signs $55 Million Deal With Unnamed Company
$30 million of the sum is for services to be provided by Spacecom's new satellite AMOS-17, scheduled for launch in the second quarter of 2019
Israel-based satellite operator Spacecom has signed a four-year $55 million deal with an unnamed non-Israeli communications company, the company announced in a filing to the Tel Aviv Stock Exchange on Monday.

For daily updates, subscribe to our newsletter by clicking here.

As part of the deal, Spacecom, also known as Space Communication Ltd., will provide the unnamed company various satellite communications services. $30 million of the sum is for services to be provided by Spacecom's new satellite AMOS-17, scheduled for launch in the second quarter of 2019. According to Spacecom's filing, the sections of the deal referring to AMOS-17 depend on the satellite becoming operational by November 20, 2019.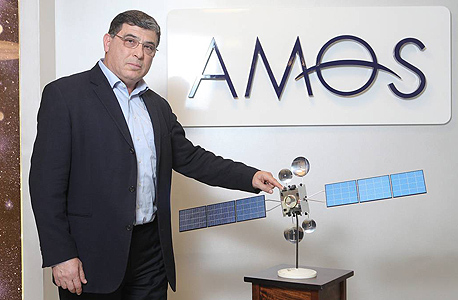 President and CEO of Spacecom David Pollack. Photo: Orel Cohen
AMOS-17, which will mostly provide service to Africa, is currently being constructed by Boeing Satellite Systems International as a replacement for AMOS-5. Expected to have a 15-year lifespan, AMOS-5 stopped responding to communications while in orbit just four years after its launch.
In 2016, Amos-6, another Spacecom satellite, was destroyed in a pre-launch SpaceX explosion. As a result, the company had to lease another satellite, and an acquisition offer for the company was scrapped.
In March, Spacecom announced it has contracted Palo Alto, California-based Space Systems/Loral LLC to construct AMOS-8, meant to replace the satellite leased by Spacecom for $22 million a year for a four-year period, after the 2016 explosion.
In an April filing, Spacecom announced it has received a letter from an Israeli government official, informing the company that the state intends to "work towards placing a satellite by Israel Aerospace Industries Ltd.," a state-owned company, at the geostationary position intended for AMOS-8, which belongs to Israel.