Mobileye's Self-Driving Car Runs Red Light in Jerusalem
The lapse was caused due to broadcasting equipment placed on the car's roof which "disrupted the traffic light's transmission, according to Mobileye
Mobileye's self-driving car ran a red light during a test drive in Jerusalem last week. The incident was taped and aired in an evening news broadcast by Israeli broadcaster Channel Ten on Thursday.
For daily updates, subscribe to our newsletter by clicking here.
No pedestrians or other vehicles were hurt as a result of the lapse.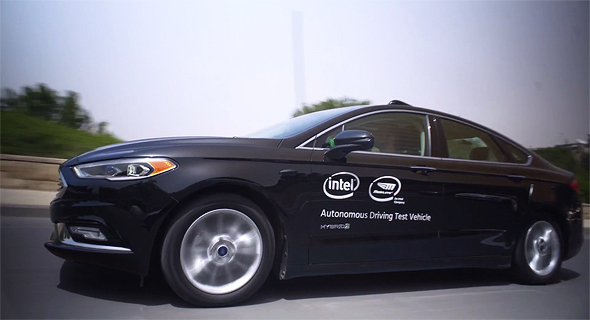 Mobileye self-driving car. Photo: Mobileye
Mobileye's response, which aired as part of the story, placed the blame for the incident on the broadcasting equipment placed on the vehicle's roof, which "disrupted the traffic light's transmission." The company did not disclose the exact cause of the disruption.
Mobileye has yet to respond to a request for comment.
Commenting on accidents by autonomous cars tested on roads at a Tel Aviv conference by Calcalist in September, Mobileye's CEO and co-founder Amnon Shashua said such events pose a major challenge for technology companies. "We do not want to invest money just to have the autonomous vehicle getting into accidents and being shut down by the regulator," Mr. Shashua added.
Speaking at a global summit by Intel, Mobileye's parent company, in May, Mr. Shashua referred to test drives that are being held in Jerusalem in secret for fear of pedestrians and drivers intentionally disrupting the tests in an attempt to challenge the autonomous systems. According to Mr. Shashua, the cars have demonstrated an ability to drive with the aggressiveness that is the norm on Jerusalem roads. "In Israel, if you are not assertive on the roads you may as well stay at home," he added.
The company plans to begin testing in California next month and later in Arizona with a planned global fleet of 100 autonomous cars, which come equipped with 12 cameras, according to Mr. Shashua.
As of this time, no legal or regulatory action has been taken in Israel against Mobileye and its tests, despite the traffic violation being documented and broadcast.
The Israel Police authorized Mobileye to test its autonomous cars, a spokesman for the Israel Police said in an email to Calcalist on Monday. "Needless to say, this consent did not include permission to commit any traffic violations as part of the experiment," he said.
Mobileye was a supplier of chips to Tesla cars, but the companies parted ways in 2016 following an autonomous car accident that killed a Tesla test-driver. The companies laid the blame for the accident at each other's feet.
In March 2018, another Tesla test-driver was killed when a self-driving car crashed into a concrete highway lane divider in California. After one of its autonomous cars fatally injured a pedestrian in Arizona that same month, Uber temporarily suspended its testing.
Uber's self-driving cars have also been reported to run red lights in the past. At the time, Uber blamed these incidents on human error by safety drivers.
Earlier this month, an autonomous vehicle by Google's Waymo was damaged, and its test driver hospitalized, after it collided with a car, which ran a red light.
Acquired by Intel in 2017 for $15.3 billion, Mobileye develops sensor-based driving assistance systems. Since the acquisition, Mobileye's Jerusalem headquarters became Intel's global center for activity in the area of autonomous cars.
On Thursday, Reuters reported that Intel and Mobileye have signed a deal to supply an unnamed European automaker with self-driving technologies for eight million cars, citing a company official.