Interview
StoreDot Raising $400 Million for U.S. Factory, Says CEO
On Tuesday, BP's venture arm announced a $20 million investment in the quick-charging battery startup
StoreDot Ltd. is launching a new funding round with the goal of raising $400 million to set up a U.S. facility for the manufacturing of its automotive quick-charging batteries, CEO and Co-Founder Doron Myersdorf said Tuesday in an interview with Calcalist. Also on Tuesday, StoreDot announced a $20 million investment from BP PLC.

For daily updates, subscribe to our newsletter by clicking here.

Israel-based StoreDot, founded in 2012, develops fast-charging batteries for mobile phones, tablets, and laptops, as well as for electric vehicles. The company, which raised $158 million to date in total equity funding according to Pitchbook, states its batteries charge within five minutes.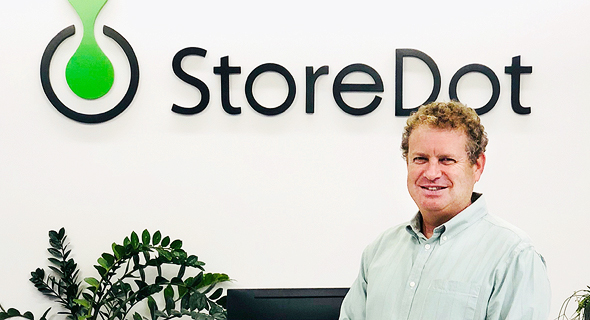 StoreDot CEO Doron Myersdorf. Photo: PR

In September 2017, following a $62 million funding round led by Daimler AG that also kicked off a partnership between the two companies, Mr. Myersdorf told CNBC that the company intends to set up a mass production factory called OneGiga. According to CNBC, at the time he said the facility would be 15,900 square meters, with an initial manufacturing capacity of 1 Gigawatt hour (GWh).

StoreDot intends to open the facility in 2022, Mr. Myersdorf said Tuesday, and use its mass production capabilities to start selling large quantities. Currently, the company's labs in Israel are not capable of large-scale production. The factory will employ 500 workers initially, and according to Mr. Myersdorf, will produce batteries for 500,000 cars by 2025.

The U.S. has been chosen over Israel as the latter lacks the necessary supply chain, Mr. Myersdorf explained, and Alabama is one of the states being considered as Daimler has local factories there. StoreDot has met several times with senior executives of the U.S. administration to discuss the establishment of the factory and the possibility of government backing, he added.

"We want government subsidy and assistance to create a strategic balance with East Asia," Mr. Myersdorf said. "There is a significant dearth in electrical batteries, which will only get worse. The current leaders of the field are East Asian countries—the factories and technology are in China, South Korea and Japan. The U.S., by comparison, only has one such venture—Elon Musk's Tesla."

StoreDot's technology differs from competitors like Tesla and GE's Chevrolet, Mr. Myersdorf said, not only in charging time—Tesla takes 40 minutes while Chevrolet takes two hours, compared to StoreDot's stated five minutes—but also in the components of its batteries. "We are the only ones making lithium batteries without graphite, which is what made batteries explode in Samsung's Galaxy Note 7. It's a known problem, and the reason why all such batteries are charged slowly. And it's also why our technology is garnering such interest."

On Tuesday, BP Ventures, the venture capital arm of multinational oil and gas company BP, announced a $20 million investment in StoreDot as part of its electrification strategy. For StoreDot, the intent of making electric batteries a commonplace feature of the automotive industry has been one of the driving forces for the deal.

"The ecosystem involved in charging an electric vehicle has many aspects—a suited vehicle, backup systems, and a wide deployment of charging stations," Mr. Myersdorf explained. "Those are not my responsibility; I'm just the battery guy. That's where BP comes in." BP intends to set up the infrastructure for electrical charging at their gas stations, he said, enabling people to charge their cars in the same amount of time others fill their gas tanks.

"BP understands that electric vehicles are the future," Mr. Myersdorf elaborated. "If it wants gas stations to remain operational, it needs to be a part of it." Until now BP lacked the necessary technology and partnerships, he added, and StoreDot's partnership with Daimler will enable BP to connect to the tier one players in the industry.

More and more countries are getting behind the movement to ban traditional fuel vehicles, Mr. Myersdorf said. "The electric car will triumph, it's not even a question."