Daimler Leads $60 Million Round for Quick-Charging Startup
Israel-based StoreDot developed an electric vehicle battery that charges in 5 minutes or less
Stuttgart-based automotive corporation Daimler AG led a $60 million funding round for quick-charging Startup StoreDot Ltd., the companies announced Wednesday.

Also participating in the round is the Chinese Lucion Venture Capital Group and previous investors such as Samsung Ventures, equity investment company GlenRock Israel, Ltd., and London-based Norma Investments, which is linked to Russian billionaire Roman Abramovich.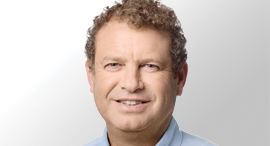 StoreDot CEO Doron Myersdorf

Founded in 2012 by CEO Doron Myersdorf and headquartered in Herzliya, 7 miles north of Tel Aviv, StoreDot develops batteries for mobile phones, tablets and laptops, and also for electric vehicles. The company says that its batteries, called FlashBattery, enable a charging time of five minutes or less without the side effect that shortens battery life in current lithium-ion batteries.

The company, whose batteries are at the final stages of development, raised $108 million in total equity funding until now.

"Electrification of trucks is of top priority at Daimler" said Martin Daum, member of Daimler's board of management. Daimler, as a strategic partner, will promote FlashBattery in the electric vehicle market. According to StoreDot, a fully-charged battery will enable a vehicle to drive for 300 miles.

This is Daimler's second investment this month in an Israel-linked startup company. On September 4 Daimler announced it will invest $50 million in a joined European on-demand van-pooling service with shuttle-sharing startup Via Transportation inc.