Intesa Sanpaolo, OurCrowd Partner to Offer Crowd Startup Investments in Italy
Earlier this month, the Jerusalem-based Equity crowdfunding company announced a partnership with Thailand's largest bank, Bangkok Bank Public Company
The innovation center of Italian banking group Intesa Sanpaolo S.p.A. has signed a Memorandum of Understanding with Israel-based equity crowdfunding OurCrowd, the companies announced Wednesday.

For daily updates, subscribe to our newsletter by clicking here.

The partnership is intended to facilitate corporate investments in OurCrowd's portfolio companies and create connections between those companies and Italian corporations who may be interested in becoming clients, OurCrowd director of communications Leah Stern told Calcalist. The group will also assist OurCrowd in the search for promising Italian startups and technologies that can be added to the firm's portfolio, she added. The partnership will focus on the areas of automotive technology, fashion-related technology, foodtech and manufacturing.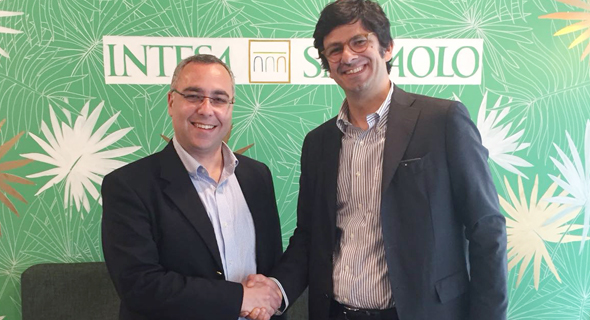 OurCrowd SVP Global Josh Wolff (left) and Intesa Sanpaolo Innovation Centre's Fabio Spagnuolo. Photo: PR

Turin, Italy-headquartered Intesa Sanpaolo is Italy's second-largest bank and one of its largest money lenders, offering wealth management services to retail and SME clients, and traditional banking services. The group, which has almost 6,000 branches in Europe, mostly in Italy, reported a net income of 3.8 billion euros ($4.51 billion) for 2017 and total assets of 796.9 billion euros ($933.5 billion). Its innovation center was set up in 2004.

Jerusalem-based OurCrowd, established in 2013, enables accredited investors from over 150 countries to invest in pre-vetted startups. Around 70% of the firm's current portfolio companies are Israel-based, but the firm has been steadily increasing its global reach. A September report by Israel-based research company IVC Research Center Ltd. stated OurCrowd is responsible for 58% of crowdfunding deals in Israel.

Earlier this month, OurCrowd announced a partnership with Thailand's largest bank, Bangkok Bank Public Company Ltd., to connect the firm's portfolio companies with interested investors and customers working with the bank, and to scout for promising Thai startups. The company has several other significant partnerships in Asia, including with Hong Kong-based CITIC Pacific, a subsidiary of Beijing-headquartered, state-backed CITIC Group Corporation Ltd., Singapore's United Overseas Bank Ltd., and China's Shanghai Commercial Savings Bank.

OurCrowd also has existing partnerships with the National Australia Bank, U.K.-based technology group Halma PLC and Germany-based energy company Innogy SE.

OurCrowd and Intesa Sanpaolo have worked together previously on various initiatives and joint projects, OurCrowd CEO Jon Medved said in a statement.

"The partnership has the dual target of making available to our business customers the best Israeli technologies and, on the other side, our best startups will have access to the network of over 25,000 international investors of OurCrowd," said in a statement Mario Costantini, General Manager of the Intesa Sanpaolo Innovation Center.