The 50 Startups List
Israeli Startup Sells Instant Insurance to Yoga Instructors, Kindergarten Operators
Next Insurance offers customized insurance policies to small business owners in minutes through its online platform
Israeli startup Next Insurance Inc. sells customized insurance plans for small businesses through its online platform and app, in a process that takes up to several minutes. Traditionally, obtaining business insurance—which is mandatory for small businesses in the U.S.—could take days and even weeks.

For daily updates, subscribe to our newsletter by clicking here.

Next Insurance is currently offering unique policies for 25 types of businesses including private kindergartens, yoga instructors, home renovators, and other professional service providers. In March, Next Insurance launched the Live Certificate service, which provides policyholders with a real-time digital certificate of insurance that could be accessed online or on any mobile device. Next Insurance reports 15,000 customers and $8.6 million in revenues in 2017.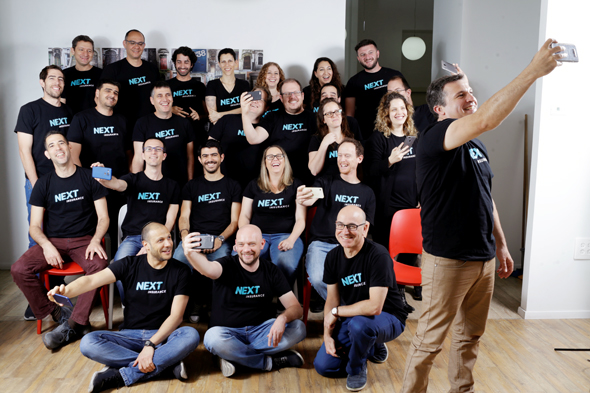 Next Insurance's team. Photo: Amit Sha'al

Founded in 2016 by Guy Goldstein, Nissim Tapiro, and Alon Huri, Next Insurance employs a 25-people team at its Silicon Valley headquarters and an additional 27 employees in its Israel development center. The company has raised $53 million from investors, which include American Express Ventures, Israeli Venture Firm TLV Partners, and Nationwide Mutual Insurance.