Netanyahu Moves Israeli Cabinet Meetings to Underground Jerusalem Bunker
The bunker was modeled after underground closed cities in the U.S. It can house hundreds of people, according to reports
Israeli Prime Minister Benjamin Netanyahu has decided to relocate all future meetings of the cabinet to an underground bunker in Jerusalem until further notice, according to several Tuesday Israeli media reports.
Israel's Channel Eser, also known as Channel Ten, first reported the decision.
A spokeswoman for the Prime Minister's office declined to comment.
For daily updates, subscribe to our newsletter by clicking here.
According to a Thursday report by Israeli daily Yedioth Ahronoth, the bunker was modeled after underground closed cities in the U.S. and includes meeting rooms as well as functional spaces such as bedrooms, workspaces and a cafeteria large enough for a few hundred people. It was built to the sound of several billion shekels, according to the report.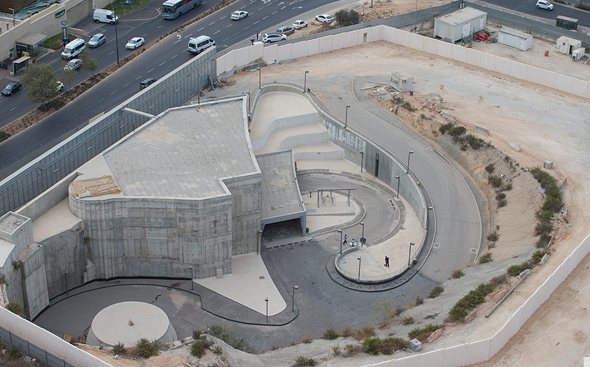 Israel's new government bunker. Photo: Ohad Zwigenberg
Citing a person who visited the bunker, Yedioth Ahronoth reported that 95% of the bunker is underground, and the only entrance is through elevators. The report goes on to cite that person as saying that the elevators give passengers "Sci-FI" feel and that the bunker itself gives visitors the feeling it is "completely disconnected from the world."
According to Channel Eser's report, cabinet members have speculated that the relocation is due to the sensitive subjects to be discussed in upcoming weeks, and a fear of leaks as the bunker is out of transmission range. As of Tuesday, according to Channel Eser, two cabinet meetings have already taken place inside the bunker, and four more have been scheduled.
The bunker was built to house an Israeli national crisis management center, and to serve as a place from which the Israeli government can safely govern Israel in a state of emergency. A decision to set up a national crisis management center was made following the events of the 2006 war in Israel's northern border which saw the country invading Lebanon, and Hezbollah forces launching thousands of rockets into northern Israel.
In March, 20 rockets were fired from Syria into Israeli territory at the Golan Heights by Iranian forces, according to the Israeli military's spokesperson unit. Only a few missiles entered Israeli airspace and were shot down, according to the Israeli military. Subsequently, dozens of military and intelligence targets in Syria were targeted in Israeli air strikes.
Recent violent clashes with Palestinian protesters along the Israel-Gaza border resulted in several dozen fatalities on the Palestinian side. On Saturday, several Israeli aircrafts attacked Hamas targets in Gaza, after several Palestinians cut through the fence at the border and lobbed a molotov cocktail at an Israeli sniper post.
Yedioth Ahronoth cites a person who has been to the bunker as saying the site was built to be "the place from which commands will flow when Israel is ablaze."