Startup Developing Machine Vision for Cranes Raises $1.35 Million
Israel-based IntSite, uses computer vision to help operate cranes in a safer way
Israel-based crane operation startup IntSite Ltd. has raised $1.35 million in a pre-seed round, the company announced Friday. Investors include Israel-based Terra Venture Partners and the Israeli Innovation Authority, Israel's government technology investment arm.

For daily updates, subscribe to our newsletter by clicking here.

Founded in 2017 and based in Haifa, a port city in the northern district of Israel, IntSite develops a machine vision system that alerts crane operators to risks in their work environment, aiming to make crane operations safer and reduce costs.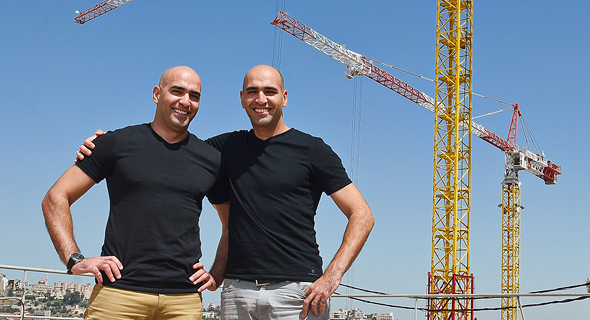 IntSite co-founders Mor Ram-On and Tzach Ram-On (right). Photo: Dori Aharon

Crane operations pose significant risks which can be reduced by the introduction of new technologies, according to Tzach Ram-On, co-founder and CEO of IntSite. Speaking in a phone interview with Calcalist on Sunday, Mr. Ram-On explained crane operators receive their instructions from a person standing on ground "dependent on bad radio communications," with no eye-contact between the two people.

The operator has no way of making an informed decision when it comes to safety and operational aspects, due to this complex work environment," he said.

A construction engineer, Mr. Ram-On co-founded IntSite with his twin brother, a former rocket engineer for Israeli defense contractor Rafael Advanced Defense Systems Ltd. The company has four employees and is planning to hire two or three additional computer vision and machine learning engineers, Mr. Ram-On said.

IntSite's product is currently being tested by Israeli real estate group Shikun & Binui Ltd., as part of a strategic partnership announced in March.

IntSite has recently started testing their system on heavy machinery used in construction sites in Asia and is currently in negotiations with construction companies in London and Paris, Mr. Ram-On said.