Teenage Entrepreneurs Set Out to Eliminate Mobile Phone Distractions for Drivers
A team of Israeli high school students develops a windshield mount for mobile phones that blocks distracting notifications
A team of 32 Israeli teenagers, all 16 or under, set out to solve one of the most pressing dangers on the roads today—drivers being distracted by mobile devices.
For daily updates, subscribe to our newsletter by clicking here.
As part of a school project at HaKfar HaYarok, a school for gifted children at the outskirts of Tel Aviv, the students are working to create a windshield mount for mobile phones, which is capable of blocking notifications from predefined apps.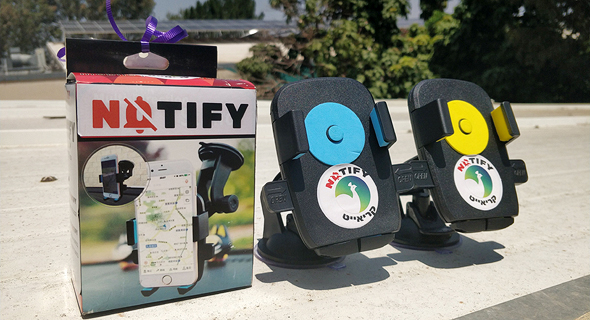 Noitify. Photo: PR
Called Notify, the product is compiled of a mount and an app, created with the help of external developers, that allows drivers to choose which notifications to block, making it possible to use navigation apps while blocking out distracting apps such as instant messaging, email, social networks, and news updates. A sensor sticker attached to the mount recognizes the phone and automatically launches Notify's app. At this stage, the user has to manually start and stop the notification block, but future plans include automating the process so that the block is activated as soon as the phone is set in the mount and deactivated when it is taken out, Ariel Rotem, the 14-year-old spokesman for Notify said in a phone interview with Calcalist on Wednesday.
Notify is currently in pilot mode.
Using a mobile phone while driving makes the risk of being in a car accident ten times higher, according to a report published by Israel's National Road Safety Authority last week. Aya Haimovich, the 15-year old who heads the team, said that while kids see their parents texting while driving all the time, in a survey conducted by the team, most adults approached denied doing so, suggesting they may be unaware of the severity of the situation.
Each of the nearly 100 devices already made was assembled by hand at the homes of team members from parts purchased online. The costs of manufacture and development, which amounted to approximately $1,000 (about NIS 4,000) so far, were raised by the students through garage sales and other activities in the school, Mr. Rotem said.
The company has sold 55 of the devices priced at around $19 (NIS 70) at a launch event held last week. According to Ms. Haimovich, the team is currently working on a new auto-reply feature informing anyone trying to contact the driver that they are unavailable.