Honeywell Enters Partnership With Israeli Defense Contractor IAI
The two companies agreed to collaborate on the development of a turnkey GPS anti-jam navigation system
U.S. aerospace and consumer product conglomerate Honeywell International Inc. has entered a partnership with Israel Aerospace Industries (IAI), to jointly develop a turnkey GPS anti-jam navigation system, the companies announced on Tuesday.
For daily updates, subscribe to our newsletter by clicking here.
Honeywell and IAI first announced their intention to collaborate on the GPS anti-jam technology in July 2017. The joint product integrates IAI's ADA system, which protects against malicious radio frequencies, with Honeywell's GPS navigation products.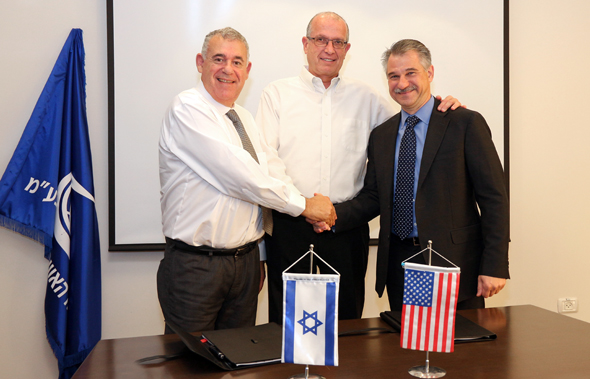 IAI's Boaz Levi and Joseph Weiss and Honeywell's Carl Esposito. Photo: PR

Government-owned IAI is Israel's largest aerospace and defense company. It develops and manufactures defense systems including aerial defense, anti-missile, unmanned aerial systems, intelligence and cyber systems, drone disruption, land robotics, and marine systems.

Alex Levit, product manager for ADA at IAI told Calcaist on Tuesday that revenues from the ADA system have amounted to tens of millions of dollars to date, and that the system has been operational in Israel and other countries. IAI expects that the collaboration with Honeywell would allow it to reach new clients and significantly grow revenues from ADA, Mr. Levit said.