Information Security Startup PerimeterX to Recruit 50 Workers for Tel Aviv and U.S. Offices
PerimeterX develops an artificial intelligence-based system that acts to identify and block malicious bots
San Mateo, California-headquartered information security startup PerimeterX Inc. plans to recruit 50 employees, 30 of whom will work at its Tel Aviv offices and the rest in Miami and San Mateo, the company announced on Sunday.
For daily updates, subscribe to our newsletter by clicking here.
Founded in 2014 by three Israeli expats, PerimeterX develops an artificial intelligence-based system that acts to identify and block malicious bots in the cloud, on the web or on mobile networks, in order to prevent the spread of phishing and fraud attempts, fake news, identity theft and other threats. The technology can be installed on company websites without impacting performance or requiring system changes.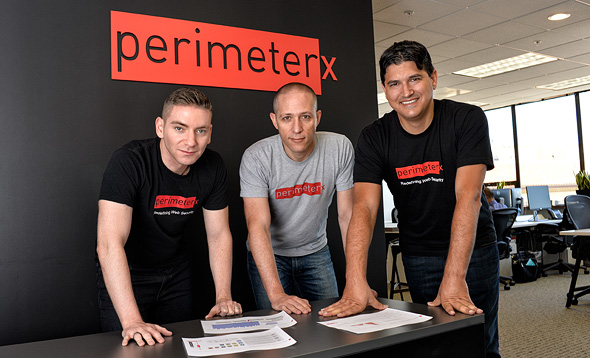 PerimeterX co-founders Ophir Ashkenazi (left), Ido Safruti and Omri Iluz. Photo: PR
In July 2017, PerimeterX raised $23 million in a funding round led by U.S.-based early stage venture capital firm Canaan Partners, which brought the company's total funding raised $35 million.
The company currently employs 100 workers in offices in Israel and the U.S., and is looking for full stack and backend developers, DevOps engineers, solution architects and cybersecurity and intelligence analysts, a spokesman for PerimeterX told Calcalist in a message earlier this week.