HiRain Technologies Partners with Innoviz to Market Low-Cost LiDARs in China
Israel-based Innoviz develops a small-size LiDAR that will be used in future autonomous cars by BMW
HiRain Technologies, an electronics supplier for the Chinese automotive market, and Israel-based LiDAR startup Innoviz Technologies Ltd. announced on Wednesday a partnership to market Innoviz's technologies in China.

For daily updates, subscribe to our newsletter by clicking here.

Through the partnership, Innoviz's LiDAR products will be offered as part of HiRain's extensive offering in the country. Innoviz CEO Omer Keilaf told Calcalist Wednesday that the company intends to launch an office in China, and later a manufacturing facility.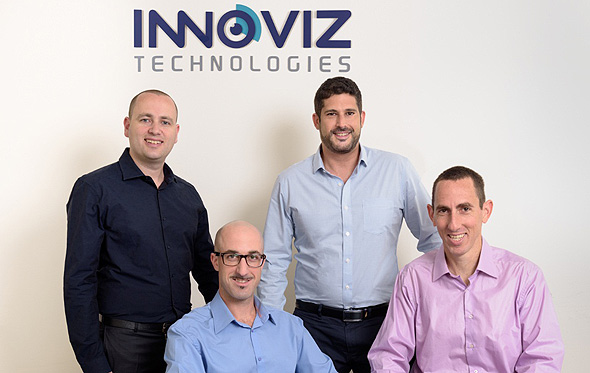 Innoviz Technologies' founding team. Photo: Innoviz

LiDAR is an imaging technology that uses lasers and sensors to measure distances between objects, creating 3D representations of the surrounding environment.

Innoviz develops and markets low-cost, small-size LiDAR systems designed to enable the mass commercialization of autonomous vehicles. Founded in 2016, and headquartered in Israel, Innoviz raised $82 million in investment from backers including Delphi Automotive, Magna International, Samsung Catalyst, and SoftBank Ventures Korea. The company employs 150 people.

The company's automotive-grade LiDAR, InnovizOne, is set to become available in 2019. In April, it was selected by BMW for series production of its autonomous vehicles starting in 2021.

Mr. Keilaf told Calcalist that while BMW provided the stamp of approval for Innoviz's technology, "to produce at scale you need the Chinese companies."

"China is helping lead the way towards the autonomous vehicle future, and HiRain is one of the most influential companies in the Chinese automotive industry. Last year, around 26 million vehicles were manufactured in China," Mr. Keilaf said in a statement.