Startup Unveils Ammonia-Based Fuel Cell To Power Off-Grid Communities
Gencell says that it has solved a technical challenge that will allow fuel cell technology to be viable in regions where more than a billion people have no access to the electric grid
More than one billion people around the world lack access to an electric grid. For cooking, lighting, and powering their mobile phones, many in Asia and sub-Saharan Africa rely on diesel generators and kerosene lamps, which are costly, have health and safety risks and pollute the air.

For daily updates, subscribe to our newsletter by clicking here.

In recent years, alternative energy companies have looked at these off-grid communities as a potential market. Dozens of companies, for example, that sell do-it-yourself solar power kits for installation on rooftops of homes have gained traction in countries like India, Nigeria and Kenya.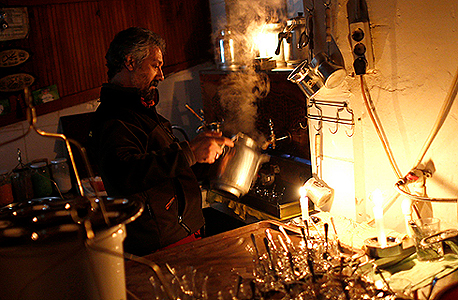 Power outage in Turkey (illustration). Photo: EPA

A different type of solution—based on fuel cell technology—is now being proposed by Gencell Ltd., a seven-year-old startup based in Israel. Fuel cells produce electricity emission-free from a chemical reaction involving hydrogen fuel and oxygen. Proponents of the technology say it could power the electric cars of the future, and Toyota has invested heavily in that direction.

In the present, fuel cells are typically marketed as a good source of backup power. Gencell, whose scientists are veterans of the Soviet Union's space program, has sold fuel cell systems to customers including a champagne manufacturer and the California utility San Diego Gas & Electric.

Earlier this week, Gencell unveiled a fuel cell product with a novel feature, which it hopes to sell to commercial and government customers in regions of the world that are not connected to the grid.

Unlike batteries, fuel cells do not run out of power. They can release electricity continuously as long as they are fed hydrogen fuel. But hydrogen fuel is not easy to come by, especially not in poor rural areas. Gencell says it has solved that problem by designing a device that can produce hydrogen fuel out of ammonia, a much more readily available raw material.

"This is our breakthrough," Louis Gordon, Gencell's director of content, said in an interview with Calcalist.

The company's 80 employees work out of offices in Petah Tikva, a suburb of Tel Aviv. Mr. Gordon said Gencell prefers not to discuss how much money it has raised, but market research firm IVC lists three investors in Gencell: Jonathan Weinberg Pinto, Samy Weinberg, and Benny Landa, who is considered one of the pioneers of Israel's tech industry.

Mr. Gordon said that Gencell hopes to sell its new system, known as the A5, to rural telecom operators, water purification facilities, and small municipalities that rely on diesel generators. He said that the A5 is cost competitive and offers advantages in emissions and safety.

The company manufactures its fuel cell products in Israel.