Zebra Medical Raises $30 Million, Unveils New Research
Israel-based Zebra Medical offers AI-based automated analysis of medical images such as X-ray, CT and MRI
Medical analytics company Zebra Medical Vision Ltd. has raised $30 million in a series C funding round, bringing its total funding raised to $50 million, the company announced Thursday.

For daily updates, subscribe to our newsletter by clicking here.

The round was led by Israel-based life sciences fund aMoon Ventures, with participation from new investors Aurum Ventures MKI, the life sciences oriented investment arm of South-Africa-born businessman Morris Kahn, Johnson & Johnson Innovation JJDC Inc., Intermountain Healthcare, and leading global artificial intelligence experts Fei Fei Lee and Richard Socher. Zebra Medical's existing investors Nvidia, Khosla Ventures, Marc Benioff, OurCrowd and Dolby Ventures also participated.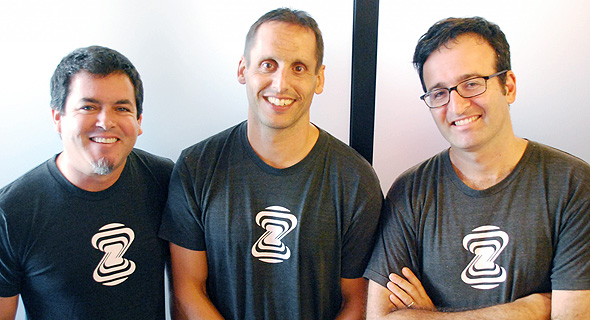 Zebra Medical Co-Founders Eyal Toledano, Elad Benjamin and Eyal Gura. Photo: PR

Israel-based Zebra Medical uses artificial intelligence and machine learning algorithms for the automated analysis of radiological scans such as X-ray, CT, and MRI. Its technology can detect various medical conditions, including fractures and low mineral density in bones, liver diseases, lung conditions and cardiovascular problems. The company received a CE Mark (EU approval) for seven of its products to date, and its technology is also approved for use in some Latin American and Asian countries.

Since 2017, Zebra Medical has been offering its algorithm bundle to health providers worldwide at $1 per scan, with a stated intention to promote affordable healthcare.

Also on Thursday, Zebra medical unveiled its Textray chest x-ray research, which it states is "the most comprehensive AI research conducted on chest x-rays to date." The research provides insight into the company's future automated chest x-ray analysis product, currently under development.

"I'm extremely proud of our team here at Zebra, that is pushing to develop and release next generation AI products with the commitment to make them affordable to the global market," said in a statement Elad Benjamin, co-founder and CEO of Zebra.

"I am a big believer in AI-based healthcare solutions and Zebra's technologies will play a major role in improving the capacity and quality of treatment for patients all over the world," said Mr. Kahn, founder and owner of Aurum.

"Medical experts worldwide are facing a critical challenge in handling overwhelming demand," said in a statement Yair Schindel, managing partner at aMoon. Zebra's team is "harnessing the power of data and machine learning to provide physicians and healthcare systems with tools to dramatically increase capacity, while improving patient care," he added.