Israel Postpones Ban on Indonesian Tourists
Originally meant to come into effect on Saturday, the ban is now scheduled for June 27, if current diplomatic efforts between the two countries fail
Israel has postponed its ban on Indonesian tourists, the Israeli Ministry of Foreign Affairs announced Thursday. Originally meant to come into effect on Saturday, the ban is now scheduled for June 27, if current diplomatic efforts between the two countries fail, the ministry said.
For daily updates, subscribe to our newsletter by clicking here.
In May, Calcalist reported that Indonesia has canceled several dozen temporary visas issued to Israeli tourists, in response to recent violence in Gaza. Israel responded last week by announcing a sweeping ban on all Indonesian nationals from entering the country.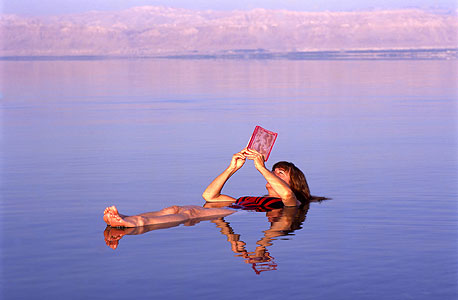 A tourist in the Dead Sea (illustration). Photo: Shutterstock
The decision to postpone the ban came after an urgent inter-ministry meeting held on Thursday. In a statement, the ministry called the move a "gesture of goodwill" in light of the upcoming Eid al-Fitr, the Muslim holiday marking the last night of the month-long fast of Ramadan.
According to the statement, the ministry plans to further discuss the matter within the next few days, as negotiations continue.
Israel and Indonesia do not have official diplomatic relations but Israelis and Indonesians are allowed to visit each other's countries using temporary group tourist visas or individual business visas. Before the situation escalated, the two countries were engaged in lengthy negotiations concerning the possible issuance of individual tourist visas.
In an urgent letter sent Tuesday, the Israel Incoming Tour Operators Association warned the decision to ban Indonesian tourists will severely damage the Israeli travel industry due to cancellations of flights, hotel bookings, guided tours, and other services that have already been paid for.
Violent confrontations between Israel and Gaza resulted in over 100 Palestinians killed and several thousand more injured since late March, according to the Palestinian health ministry in Gaza. Several countries, as well as the UN, have heavily criticized Israeli actions in the past two months. On Tuesday, following a pro-Palestinian campaign, Argentina canceled its friendly soccer match with Israel, intended to take place in Jerusalem.