Verint Rises on Earnings, CEO Declines to Comment on NSO Deal
In a Thursday earnings call Verint CEO Dan Bodner dodged questions about potential acquisition of NSO Group, calling it "rumors"
In an earnings call on Thursday, Dan Bodner, CEO of Nasdaq-listed surveillance and business intelligence company Verint Systems Inc., said that Verint believes there is a demand for data mining software, but declined to comment on recent reports of a potential acquisition of NSO Group.

For daily updates, subscribe to our newsletter by clicking here.

Last month, the Wall Street Journal was first to report that Verint was negotiating a $1 billion merger with Israeli cyber surveillance company NSO. Asked about the potential acquisition on Thursday, Mr. Bodner said he would not comment on "rumors."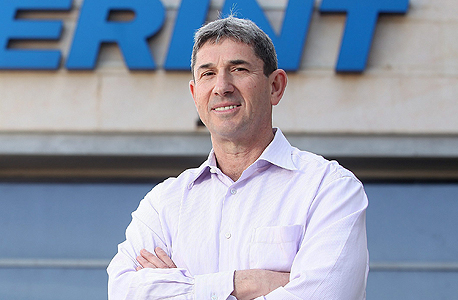 Verint CEO Dan Bodner. Photo: Orel Cohen

"There is nothing to announce in this regard," he said, opting to comment instead on Verint's overall M&A strategy. "There are three market trends to drive growth opportunity," he explained. "There is a complexity of investigation of threat, the shortage of data scientists, and the demand for predictive intelligence."

"Historically, in this area, we were not highly acquisitive, but we always look for good opportunities to build scale, to improve margin, and of course at a reasonable valuation," Mr. Bodner added.

Asked about the maximum amount of leverage he would feel comfortable raising in an M&A, Mr. Bodner said that Verint's current leverage is less than two times its EBITDA. "We could potentially lever up higher temporarily, we've done it before within acquisition, and levered down pretty quickly as we increased the scale of the business," he said.

Verint develops and sells customer engagement systems and surveillance products to governments, law enforcement agencies, and businesses. Founded in 1994 and headquartered in Melville, New York, Verint employs a team of 5,100 people, 1,100 in its offices in Israel.

Founded in 2010, NSO develops and sells cyber attack tools that can be used to gather intelligence from mobile phones and other devices. NSO counts governments and law enforcement agencies among its clients and has previously been linked to alleged human rights violations. NSO employs around 600 people, most of them in its headquarters in Herzliya, north of Tel Aviv.

If the merger deal goes through, NSO will operate as a stand-alone business unit that will be added to Verint's existing divisions, Calcalist reported in May, citing one person who spoke on condition of anonymity.

Verint's stock went up 0.9% on Friday, following the publication of its 2018 first quarter results, and is currently trading at $44.45 per share.