Company Developing AR Headset for Surgeons Raises $11.5 Million
A spin-off of Israeli defense and electronics contractor Elbit, Beyeonics develops surgical visors that stream high-resolution images and data in real time directly to surgeons' eyes
Surgical visualization company Beyeonics Surgical Ltd., a subsidiary of Israeli defense and electronics contractor Elbit Systems Ltd., has raised $11.5 million, Elbit announced Wednesday. This is Beyeonics first funding round since it was spun-off Elbit in February. The company has been operating as a division of Elbit since 2012.

For daily updates, subscribe to our newsletter by clicking here.

Five unnamed organizations invested in the company, including an American corporation in the medical device business, a spokesman for Elbit told Calcalist Wednesday.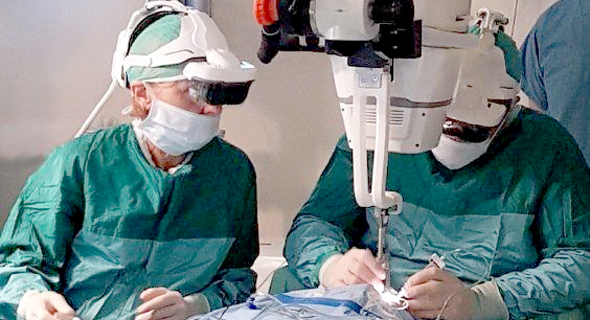 Surgeons using Beyeonics' headset. Photo: Shlomo Shoham

Beyeonics develops visualization technologies for surgeons. A head-mounted visor replaces surgical microscopes and monitors by transmitting real-time high-resolution imaging of the surgical area directly before surgeons' eyes. Using virtual reality (VR) and augmented reality (AR) technologies, Beyeonics' system delivers additional visualization aids and data such as a patient's vitals and other relevant information. The system is currently used in ophthalmic surgeries.

Beyeonics technology has been clinically tested since 2016 in more than 20 surgeries in medical centers in Tel Aviv and in Arizona.

Beyeonics will use the funds to support commercialization and develop visualization capabilities for other surgical applications including spine surgery, minimally invasive procedures, robotic surgery, and cardiovascular surgery, the company said.

Nasdaq-listed Elbit and its subsidiaries operate in a variety of military-oriented and technological domains, including communications, aerospace, land and naval systems, surveillance and reconnaissance. Elbit employs around 12,500 people worldwide, 10,000 of which in Israel. The company is headquartered in Haifa, a city in the north of Israel.