LR Group Sets Up Biotech Startup Hub at Jerusalem Medical Center
LR's intention is to set up an international hub network that will connect participating medical centers
Construction and engineering company LR Group is investing $14 million to establish a network of biotech hubs, called Biohouse, in several healthcare centers, the company announced Wednesday. The first hub, located in Jerusalem-based Hadassah Medical Center, will be inaugurated next week. LR is currently in talks to establish hubs at two other Israeli hospitals, and in Boston and New York.

For daily updates, subscribe to our newsletter by clicking here.

Founded in 1985 and headquartered in Herzliya near Tel Aviv, LR offers international project development services with a focus on sustainability.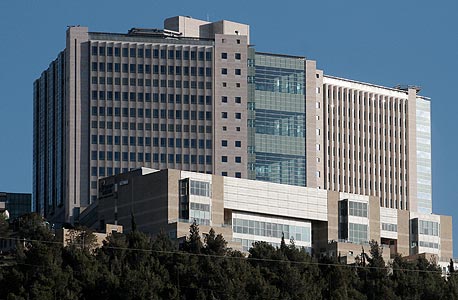 Hadassah Medical Center. Photo: Miki Alon

LR's intention is to set up an international network that will connect between participating medical centers, and Israel is the pilot, said Yaki Zinger, vice president of business development, in a Wednesday interview with Calcalist.

"We looked at the (medical) ecosystem in Israel and in the world, and we realized that there's no factor that connects the different entities," said Mr. Zinger. "Medical companies have a presence in accelerators, incubators or workspaces but that is not their natural environment."

LR wants to bring those companies into the hospitals and provide them with lab access, mentors from within the system, and the opportunity to collaborate with experts, Mr. Zinger explained. "The program will redefine the medical ecosystem, based on three aspects: a co-working space inside the hospital, the resources offered by the hospitals on site, and a connection to investors," he added.

The Hadassah hub will span 1,300 square meters and could host 40-50 startups in the domains of medical devices, digital health, and biotechnology. Mr. Zinger said. The hub is already at 40% full. Hadassah itself will also operate a digital healthcare accelerator in the space, in partnership with the Jerusalem Development Authority, a city agency promoting economic activity.

Companies participating will be introduced to partners around the world to facilitate research partnerships and funding opportunities, Biohouse CEO Shai Melcer said in a statement. The hubs will enable startups to validate their technology with medical and medical technology professionals and companies at lower costs, he added.

On Monday, the Israeli Ministry of Health and the Israel Innovation Authority announced a new program that will fund pilots for digital healthcare or medtech technologies. The program will enable companies to test their products in partnership with Israel's health maintenance organizations and the Israeli medical corps.