Israel-India $500 Million Spike Missile Deal Nearing Closure, Report Says
Indian press reported a snag in the deal in November 2017, stating the country's defense ministry was interested in developing similar missiles in-house
An Indian-Israeli deal to purchase $500-million worth of missiles from Israeli defense contractor Rafael Advanced Defense Systems Ltd., previously reported as voided, may be nearing closing, according to a Tuesday report by Hindustan Times.

For daily updates, subscribe to our newsletter by clicking here.

In 2016, the Indian government agreed to purchase 8,000 'Spike' anti-tank missiles and 300 missile-launchers from state-owned Rafael. The missiles were supposed to be partly manufactured in India, in adherence to the Indian government's 'Make in India' policy.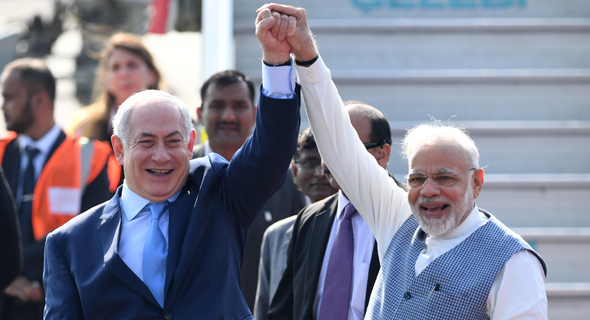 Israeli Prime Minister Netanyahu and Indian Prime Minister Modi. Photo: AFP

Indian press first reported a snag in the deal in November 2017, stating the country's defense ministry was interested in developing similar missiles in-house. In early January, Rafael confirmed the deal was cancelled before a contract was signed.

In mid-January, Israeli Prime Minister Benjamin Netanyahu conducted the first Israeli state visit to India in 15 years, meeting with Indian Prime Minister Narendra Modi and signing collaboration agreements on cybersecurity, energy, the film industry, and air transportation. During a press briefing, Mr. Netanyahu announced the deal was back "on the table." A spokesman for Rafael later stated the deal was still in negotiations.

In a Tuesday's report citing Indian and Israeli government officials, the Hindustan Times reported that both sides "were awaiting approval" from the Indian government, and that the deal is about to be finalized, ahead of a planned visit to India of Israel's defense ministry director general Udi Adam in July. Though the publication assigned the deal the previously reported sum of $500-million, it has stated the deal was revised to around 4,500 spike missiles, and manufacturing in India is expected to make up a smaller part of the deal.

Ishai David, the deputy spokesman for Rafael, told Calcalist Wednesday that "the matter is still under discussion between the sides."

The Hindustan Times also reported that during Mr. Adam's visit, the Indian government will discuss some other defense deal, including a possible purchase of two airborne warning and control radar systems.