Interview
How WeWork is Tweaking Facility Design to Cater to Corporate Customers
With automatically adjusting desks and trash bins that call on the cleaning service, WeWork is upping its game, says the head of the company's technology center in Tel Aviv
In the midst of the interview, WeWork senior vice president of product Ron Gura adjusts his desk using an automatic mechanism that brings the desk up exactly to his height. "When it comes to corporate clients, we don't just want to manage the real estate; we want to manage the entire workspace," he explains. "The room temperature, the office culture. An employee coming to our New York office for a few hours to check up on emails and make a few calls needs to find exactly the right phone and exactly the right table."

For daily updates, subscribe to our newsletter by clicking here.

Gura heads the company's technology center in Tel Aviv. In 2011, eBay acquired The Gift Project, a group gifting company Gura co-founded, and he became the director and general manager of eBay's Israeli innovation center. After a brief venture capital stint, he joined WeWork in 2016.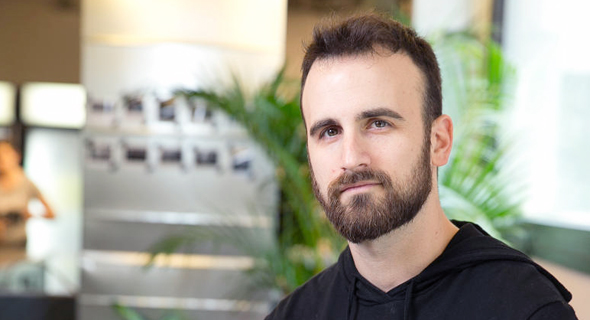 Ron Gura. Photo: Orel Cohen

25% of Fortune 100 companies work with WeWork, Gura says, and 30% of the company's revenues come from those companies. In 2016, Microsoft gave 30% of its New York employees WeWork memberships. In 2017, IBM signed a deal for all desks at a WeWork facility in New York. In April, Facebook confirmed it has rented an office space large enough to accommodate 7,000 people in WeWork's main offices in Mountain View, California. While WeWork has only expanded to the corporate domain two years ago, corporate clients already account for a quarter of WeWork's business, Gura says. And the company is fine-tuning its services accordingly.

"If, for example, Microsoft relocates a significant part of its operations to our offices, we need to step up our quality of service. Not discounting what we did until now, we need to become a lot better, and the only way to do that is with data analysis and a deeper understanding of what is going on in our buildings," Gura says. "When you're doing business with a corporate client everything needs to be perfect. When an employee wants to throw away a can, the trash bin can't be full. Custodial workers can't discover the bin is full on their own—there's a sensor in the bin that lets them know. That's the quality of service a corporate expects."

WeWork, the harbinger of the co-working trend, was founded in 2010 by Israeli-born Adam Neumann and his partner Miguel Mckelvey. According to company data, WeWork has around 5,000 employees in 75 cities across 22 countries, and more than 253,000 community members across 283 locations. The company's spaces change from country to country according to local customs, needs and even average height. "We're opening one new location a day currently, dozens a month," Gura says, "and it's an immense challenge for the company."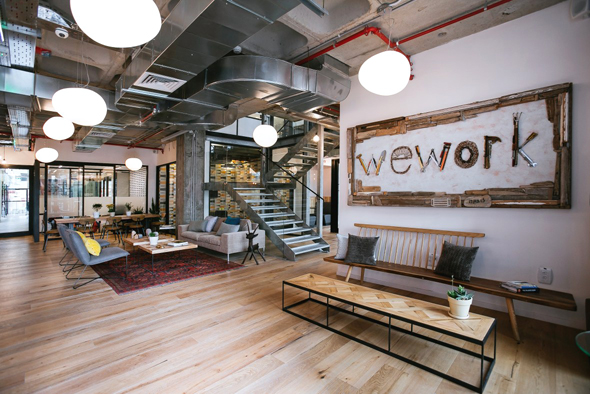 An Israeli WeWork location. Photo: WeWork

WeWork raised $4.4 billion from SoftBank's Vision Fund last August, and in April raised $702 million from the junk bond market at an interest rate of 7.875%. The move to raise money in the U.S. came after the company abandoned months-long plans to sell bonds to institutional investors in Israel. Calcalist reported that the turnabout came as a result of the strict financial disclosure rules in Israel and the requirement to put up collateral before issuing bonds.

According to a report by Bloomberg, published earlier this month based on documents associated with the U.S. bond sale, WeWork saw $886 million in revenues for 2017, double its 2016 revenues, and $1.5 billion in investment expenses. However, WeWork also reported losses of $934 million, and $18 billion in lease obligations.

"We have to keep up a high growth rate," Gura says. Since WeWork's inception, the market has seen many co-working spaces pop up, but Gura says WeWork's biggest competition is still itself. "The co-working category is full of players that are doing something different from us, both in terms of business model and of thought process. Anyone can open a burger joint, but not everyone can be McDonald's. Similar to other growth companies such as Netflix, Uber, and Amazon, we put all our profit back into our growth, because the model is good."

Earlier this month, Rajeev Misra, the head of SoftBank's Vision Fund, said that WeWork could be worth $100 billion in the next few years. "There's no real ceiling for what the company can achieve," Gura says, the first reference a senior company executive makes on the subject. While it only controls a very small portion of the commercial real estate market, he explains, "WeWork is the most significant player in the co-working domain, and like many others, I too think it will reach a valuation of $100 billion and more."

In Israel, on top of seven co-working locations and a few more slated to be open soon, WeWork employs 105 people in the digital and development domains, out of 450 such employees worldwide.

"We intend to double our development center within 12 months. We have 100 software engineers in Israel currently, and we'll have 200," Gura says. To get there, the company plans to combine organic growth with local acquisitions. "We'll be making acquisitions this year and the next year," Gura adds.