Black Cube Tampered With Hungarian Election Campaign, Report Says
Politico reported that the Israeli spy firm was hired to discredit Hungarian NGOs ahead of the recent elections won by right-wing Prime Minister Viktor Orbán
Israeli private intelligence firm Black Cube was hired to discredit a number of Hungarian NGOs ahead of Hungary's elections in April, according to a Friday report by Politico. Citing a former Black Cube employee and another person familiar with the matter, Politico reported that from December 2017 to March 2018, Hungarian NGOs linked to American-Hungarian businessman George Soros were approached by Black Cube agents using false identities. The agents secretly recorded their conversations, which were later used in reports published on Israel's English-based newspaper Jerusalem Post and in Hungarian government-controlled daily paper Magyar Idők. According to Politico, these recordings were used by Hungarian Prime Minister Viktor Orbán to attack independent civil society organizations during the last days of his campaign.

For daily updates, subscribe to our newsletter by clicking here.

The right-wing Orbán went on to win the elections. Politico said the two people familiar with the matter did not know who paid for the operation and whether the Hungarian government was involved.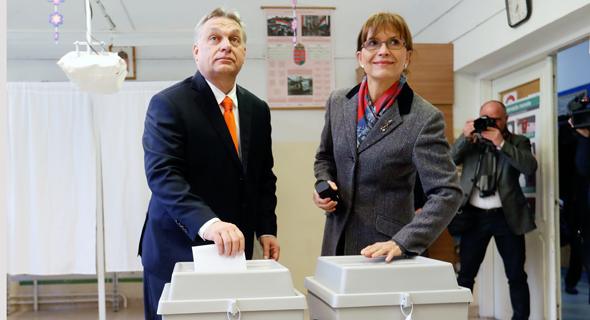 Hungarian Prime Minister Viktor Orbán and his wife voting in April. Photo: Getty Images

In a comment sent to Calcalist by email, a Black Cube spokesman said that the firm "supports the work of many leading law firms around the world while gathering evidence for complex legal processes, and for that purpose alone. Anyone claiming otherwise is misleading their readers."

This is thought to be the first time Black Cube was hired to run interference during the run-up to an election. In March, Cambridge Analytica whistleblower Christopher Wylie testified before the British parliament that Black Cube was employed by Cambridge Analytica in 2015 to obtain compromising information on Nigerian President Muhammadu Buhari. The company denied the connection, and in a testimony before the U.S. Senate in May, Wylie retracted his statements about Black Cube.

Founded in 2010 and headquartered in Tel Aviv, Black Cube offers private intelligence services to clients who are engaged in business disputes. Many of the firm's 100-plus employees are veterans of Israeli military intelligence units and agencies such as the Mossad and the Shin Bet Security service, Israel's equivalent of the FBI.

Black Cube, which is officially registered in Israel as B.C Strategy Ltd., was placed under the global spotlight in 2016 when the New Yorker magazine revealed that disgraced Hollywood producer Harvey Weinstein had hired them to spy on an actress Rose McGowan who had accused him of sexual misconduct.

In May, New Yorker Magazine reported that Black Cube spied on Obama administration staffers involved in the 2015 Iran nuclear deal, seeking information that could discredit them. Black Cube denied having a connection to the Trump administration, its representatives, affiliated business executives, and the Iran nuclear deal in a May statement to Calcalist.