Medical Cannabis Company Together Pharma to Set Up Skincare Company
Together has partnered up with Israeli cosmetics and skincare company Premier Dead Sea for the venture
Together Pharma Ltd., an Israel-based company focused on growing, exporting, and distributing medical cannabis, is setting up a skincare subsidiary in partnership with Israeli cosmetics and skincare company Premier Dead Sea Cosmetics Laboratories. The companies announced the binding agreement, contingent on certain conditions, in a filing to the Tel Aviv Stock Exchange Monday.

For daily updates, subscribe to our newsletter by clicking here.

The company is currently up almost 4% on the exchange.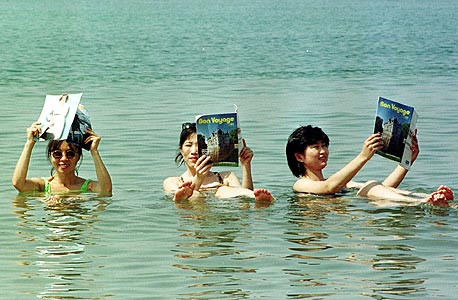 The Dead Sea. Photo: Reuters

Several peer-reviewed dermatological studies performed in recent years have suggested that CBD, a cannabis active compound, might have anti-inflammatory or beneficial properties for various skin disorders. While there are several cosmetics companies that have offered hemp-based skincare for years, such as British company The Body Shop, more and more companies have been debuting topical CBD products of their own over the past year as oil, serums and lotions, leading publications such as Vanity Fair to announce a "cannabis craze" for skin care.

Dead Sea Minerals have been used in cosmetics and skin care for decades, with many attributing them with health benefits for skin conditions such as psoriasis. In 2016, Shanghai-based conglomerate Fosun International Ltd. acquired Dead Sea cosmetics manufacturer Ahava for $77 million.

Together was created from a merger between Tel Aviv-listed shelf company Together Startup Network Ltd. and Globus Pharma, an Israel-based company that has received highly sought-after government permits required for growing and marketing medical marijuana in Israel. The company made several business-related announcements in recent months, including agreements to set up farms in Israel or abroad as well as several supply agreements with non-Israeli companies.

The medical cannabis sector in Israel has been gaining traction since 2016, when the Israeli set in motion a reform intended to allow export from the country, estimating the proceeds could amount to hundreds of millions a year. The anticipation led many growers and companies to attempt a pivot, sending companies like Together soaring on the stock exchanges—Together's stock has jumped by over 800% since the company announced its pivot in December 2017—but the reform is currently still stalled due to intergovernmental disagreements.

According to Monday's filing, Together and Premier will set up a joint subsidiary to be incorporated in Europe, in which Together will hold a 51% stake and Premier will hold 49%. Premier will supply the subsidiary with Dead Sea mineral-based creams, and Together will supply components of CBD. The deal is contingent on the satisfactory integration of CBD in Premier's products, the testing of which is already underway.

The expenses for setting up the subsidiary will be split equally between Together and Premier, according to the statement, but Together will make a shareholder loan of up to 2 million euros to the subsidiary for the purpose of setting up a manufacturing facility.